The future of any nation is in the hands of the youth and Eboagwu Nneoma Favour, is already carving a niche for herself in Chess. The Igbodo born 18 year old student of Geology at the Niger Delta University is making the right choices and developing her skill to fulfill her ambition of making more females appreciate and play chess.
In this interview with Omamuzo Efidhere, she shares her inspiration, future plans, the need to make chess popular and more.
Excerpt:
Can we meet you?
I am Eboagwu Nneoma Favour, I hail from Igbodo, Ika North East Local Government, Delta State. I attended Excel Primary School 2004-2010, Asaba Girls Grammar School 2010-2013 and Zappa Basic Secondary School 2013-2016. I am 18years old and currently studying Geology at the Niger Delta University, Amassoma-Oporoma, Southern Ijaw, Bayelsa State.
At what age did you start playing Chess?
At 14years.
Are you self-taught in Chess or did you get lessons from a Master?
Both.
How much time did you dedicate to Chess daily?
No specific time I played whenever I was free from school work and house chores.
What fascinates you so much about the game?
It is a game that involves the brain, it is like unfolding a mystery because you never really know what is going to happen till the game ends, and it is fun.
What kind of feelings does Chess awake in you?
I feel whole and alive, I have power and authority. It is war and my decision matters a lot in the battle ground. (I have a kingdom that is going up against another kingdom it is my responsibility to make or ruin the kingdom).
What have you learnt from it?
It has taught me not to underestimate anything. When you see a pawn in a chess board, you will initially feel that it is nothing because of its size and value. But later you will discover that that pawn can become a queen with time. It has taught me to never quit, give up or surrender at the face of a bad start. No matter what happens, keep on fighting. It has developed my imagination I can plan over things. It has taught me that life is full of ups and downs; you cannot always win but always have a plan and always be prepared.
What is your style of play?
I am more of a positional player.
Which side; do you like playing more, black or white?
I have no preference; I play everything.
Which Chess piece is your favourite?
No favourite piece.
Which Chess players inspire you?
Bobby Fischer and Magnus Carlsen
Is it true that serious chess player pays attention to sleep, nutrition and physical exercise, if true do you have any strict diet, sleep and exercise routine?
Yes those things affect game play but I do not have any strict routine because I am not a professional yet.
How do you endure a game of 24 hours without losing concentration or succumbing to fatigue?
Normally, I leave the environment to relax a bit then return refreshed, sharp and mentally alert to my game.
Have you ever won any title?
Yes, I have won several medals.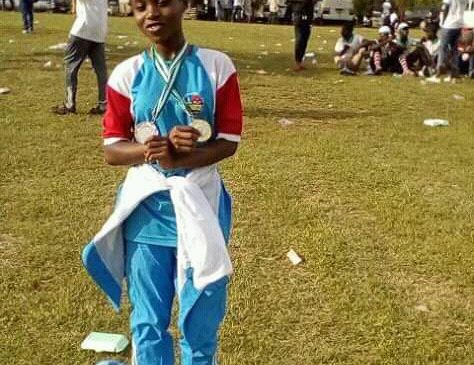 How many stages and opponents did you go through and where?
We were much, It happened at University of Ilorin
What year was this?
2017
How old where you, was there any cash prize or gifts attached?
I was 16 then, yes there was cash prize attached.
Who was your toughest opponent and why?
I do not remember her name but she was a tough opponent because I underestimated her. I was feeling proud and superior and I let it get to my head but thank God I did not lose the game.
Was there a moment in the game where you believed that you would lose how do you shut out negative thoughts and remain focus in the game?
Yes there was. I closed my eyes and asked God for divine direction silently and he came through for me. Thank you Lord.
What are some of your memorable experiences from the competition?
Everything was memorable. The moment I finish a game and win
It is a known fact that Chess sharpens the intelligence of the player, how can more youths be encouraged to play Chess?
Youths can be encouraged to play chess when given the opportunity to attend and participate in competitions without lobbying. Coaches can also approach Government, Banks, Corporations, Institutions, Chess enthusiast who are of means to organize competitions at intervals.
What can be done to make Chess more appealing to girls, seeing that there are more male Chess players than female?
Make the game popular then females will attracted to it.
For those who want to pursue Chess as a profession, what would be your advice?
My advice is that they should not relent because it is educative and lucrative.
What are your goal and ambitions, chess related and in general?
My goal is to become a female world class star player in Chess. My ambition is to make more females appreciate and play Chess as it gives one honour and prestige.
How old where you when you gained admission?
17years.
Has your academics affected your interest in Chess, do you still play Chess?
It has not. As a first year student I paused to settle down in school academically then I picked it up again. My name is in the archives of my school as no. 1 chess player.
How has your mother influenced your life positively?
My mother has sincerely influenced me positively. Always encouraging me to be busy and not fault anyone as the reason why I did not get to the top.
Who are those who motivate you?
My mother is my inspiration (a mover) my pastor and his wife, Apostle Obi and Edwina Peters – always telling me I will get to the top. Rev. Alex. O. Akpodiete JD – right from my childhood has always seen the potential in me.  Very proud of me.