Despite facing certain challenges of life Pastor St. Kelvin Obas, is a beacon of hope and faith. As a young man he loved music and following a call from God, today he inspires people to turn to God in the difficulties of everyday life. He is ever hopeful that more and more people will learn how to worship God in spirit and truth. With performances from the United States of America to Europe, Pastor St. Kelvin Obas, is touching lives every day with his music.
Can we meet you?
I am Pastor St. Kelvin Obas, I'm married to Sarah-Ann and we are greatly blessed with three lovely children – Virbliss, Lisa-Alice and Lucrecia. I'm from Delta state. My father, Samuel Agbalagba Obakponowhe is from Omavovwe, Agbarha Otor, and my mum, Mrs. Alice Azugo is from Ogharha, Agbarha Otor.
Educational Qualification?
I attended Ugodo Primary school, Okpe road Sapele; ZIK Grammar school, then Sapele Technical College. In 1996, I gained admission into Obafemi Awolowo University but could not complete even my first year due to unbearable financial problems. I later attended University of Ibadan, satellite campus, in Lagos where I obtained a degree in English. I'm currently preparing for my masters.
Work Experience?
After graduation, I realized that my course of study was not in demand, so I decided to pursue my passion which is nothing other than music. However, to be able to eat three square meals daily, I secured a job as a marketer for an insurance company from South Africa, IFA. I grew to become the local manager in Ughelli, and after a while I was invited for interview in Asaba where I emerged one of the state managers. By the reason of that promotion I was the number thirteen man in the organizational structure in the country. I worked as the local manager in Ughelli while heading Imo state, Owerri precisely. I worked there for a year and two months before I left to answer the call of God upon my life – to serve full time in the house of God.
How did your parent react to you going into music?
Growing up, I knew I could sing. I would score every song making waves in those days. I practically memorize the lyrics of songs effortlessly. This was very easy for me because I'm naturally gifted to sing. So, when my parents heard that I was going into music, they weren't much surprised because they saw it coming. They gave me their blessings and wished me well. The only thing my parents negatively reacted to was when I told them I wanted to become a pastor. My dad said and I quote; "you want to be a pastor?" To which I replied an emphatic Yes, then my dad said, "Pastors suffer. They suffer because they depend, hundred percent, on their members for their daily bread. The day the members refuse or forget to bring garri, yam or plantain, the pastors and their families sleep on empty stomach."  I tried in vain to convince them that some pastors have multiple streams of income and that most are placed on salaries.
How did you become a Christian?
When I checked my family I found out that everyone was fetish. There were no Christians except an uncle who is now a Canon in the Anglican Communion, Canon Emmanuel Azugo. He was the only person I could look up to as nothing good was happening in my extended family. Everybody was spiritually stagnant. When I came of age and became a little independent, I told myself I must serve God. I made this decision because I saw that those members if my extended families who were following in my uncle's footsteps, by serving God, where the only ones progressing while the others were retrogressing. I was motivated to be like my uncle. But when I finally left my parents' house at the age of 22, I got cut up in bad companies. I began to move from one night club to another; Resa Waves, Viva Mexico, the Lords, Paradisco and farm kitchen in Warri performing secular songs. At that time, this seems like the only way I could survive the hardship of life. It was an escape from reality. I didn't care back then because all that mattered was survival. I was staying in a cubicle, a room with less than four ceiling at 13 Ojagbugbe Street, warri. I was there with my elder brother, Ejiro. In fact, it was a kitchen that was converted to a room. It was very uncomfortable but I endured it all, after all, that was all we could afford right then. Sincerely, it was not easy for me converting from a club boy to a church boy. I had a girlfriend then; she was the daughter of a Venerable in the Anglican Communion who kept urging ne to go to church. She kept telling me that the kind of life I was living will not take me anywhere. I remember one particular New Year eve; she insisted that i go to church with her. I could not refuse because she would not take no for an answer. So i went with her to the church's cross-over service. But immediately it was few minutes past midnight, i sneaked outside with her to a dark corner just to kiss her goodbye. I left the church in a hurry and ran to the club. I had to because that hour was when we make so much money in the year. I therefore could not trade it for anything in the world – not even for God. That same night, I was performing a song 'shower me with your love' and in the midst of singing I heard a voice say something clearly into my ears, I turned around but couldn't find anyone. Everyone around were busy dancing to the rhythm of my song. The voice spoke to me repeatedly. The third time I heard the voice, my whole being was dramatically transformed. From that moment, I lost interest completely in everything I was doing there. Suddenly, I had no pleasure in what I have been involved in for a long time. All the fun I was enjoying became sour. I began to feel irritated and I stopped singing almost immediately and left the club, never to return to it till this day. I went home crying profusely as if I was beaten. In the morning, I returned to Ughelli, started squatting with a friend and enrolled as a member of a church. I was encouraged by Ena Johnny and Rex Anighoro, the first bible I ever read in my life was given to me by Ena Johnny. And I've forever remained grateful to him for such a precious and priceless gift.
While you were singing, what inspired you to go into music?
As a child, what inspired me to go into music was the euphoria of seeing people ecstatic when I serenade an audience. When you have a good voice and can sing well, people just like you. Because I could sing well, friends and people were always coming around me. I became the centre of focus and i loved it. Today, what inspire me in music are the souls that get saved through my ministration because I believe that the ultimate, is winning souls to Christ. In fact, when it comes to worship I do not see it as singing anymore; I see it as pure ministration.
Professionally, how long have you been doing music?
I have been doing music for more than 30 years but professionally for a little more than 20 years.
Lyrically what inspires you?
The words of the songs have to be philosophic and full of inspiration. Like one of the songs i wrote, titled, 'There is something about you"; "You alone know about it"; there is no life in doing what is wrong." Basically, I'm inspired by words that are forever true – real words that keep you on your toes and make you spiritually fresh.
Do you write all your songs or do you have people write for you?
I write all my songs. Hardly can someone else write a song for me because my songs have to do with what I hope to address and I address it the best way that anybody who listens to the songs would be able to get the message I want passed across.
How many albums have you released so far?
When I was in the circular world, I released an album. Another album was released with my gospel group called Saint to Saint, which comprised St. Levi, St. Richie and I. In fact, the name St. Kelvin came out of my group. When I was in the circular world, my name was Mac-Kelvin, so when I gave my life to Christ I had to change it to St. Kelvin that is Sinner to Saint. As a solo gospel artiste, I have released three albums: the first one is 'Altar Call' the second, 'Faculty of Worship' and then, 'Worship Medley' made up of traditional songs. There is a new one out on the market now, although I do not see it as an album but people love it. It is a compilation of my ministrations around some of the countries I have been privileged to minister.
What are some of the challenges you encountered in trying to release those albums?
People want to support what they have seen not what you are seeing. When I was trying to release each and every of the albums, I was deserted by those close to me who I had absolute trust in. The only man who encouraged, supported and sponsored my dream was late Pastor S.E Onovae. He was always giving me money to transport to Ile-Ife or Lagos for studio recording sessions. During one of our numerous trips to Lagos with 'Ghana must go' bag laden with yams, plantain, garri and other condiment, I remembered St Levi, St. Richie and I alighted from the 'Molue bus' only to realize that we had left our foodstuffs behind in the bus. We chased the moving bus with all our strength and were fortunate to bring it to a halt. The bag was so heavy that it needed all three of us to bring it down. When we got to Orile, our initial accommodation was cancelled so we were taken to another place with the only window in the room facing the public toilet. It was not easy pursuing my dream and because nobody believed in what can come out of music I had to look for what to do to support my music. Back then, I could do anything to get money as long as it was not evil. I have carried block at building sites, picked aluminum from public refuse dumps, been a bus conductor from Ughelli to Warri, done hair barbing, laundry, house wiring and even serve as a house boy, all to make my dream come through. It wasn't easy at all.
Did you ever think of switching from gospel to main stream?
No! I never gave it a second thought after I left that fateful day at the club in Warri. As I grew in grace, I became more obsessed with the church. I was fed up of the circular world because the circular world is full of immorality and only few are successful out of the whole lot. Their lives were not worthy of emulation, even in the western world only few are role model as majority burn and crash after few years of fame. So I told myself if God cannot make this one work, I rather suffer in Christ.
Who were your earlier music influences?
In the circular world I will say Bob Marley and Fela. Their lyrics are very strong, true and real that is why up till tomorrow, though dead, they are still being celebrated. These are people who used their songs to influence and shape the society, the economy, governments etc. unlike nowadays where you have songs for the belly, musicians gaining from the society and not impacting the society. Others are Don Williams and Dolly Parton. When it comes to gospel music, Donnie McClurkin really inspires me because of his background, from being gay to becoming a worship minister, you need to respect people like that because they do worship from their heart, and from a depth only someone who has experienced the worst could. – They want to give God their all. I look up to him also, Panam Percy Paul. I consider him a legend; he has kept the temple up over these years. These are my role models.
Which gospel artist are you craving to work with?
It is Panam Percy Paul and lately, Nathaniel Bassey. I really respect Nathaniel Bassey. We have so much in common, in terms of growing up the hard way. There were challenges but he kept on. Before making it big in the industry, people under-rated him big time, he was not given honorarium in the programmes he attended but the same people gave attention to the noise makers. I also respect Frank Edward because of the things he went through but still stood for Christ. I always prefer those who will stand for Christ.
Between your parents who would you say was more influential in shaping your life?
My dad influenced me the most, although, I do not like some things about him.  He had five wives and many concubines. That I disliked in him. But I never saw him beat any of his wives; that I admired about him. This is because I've seen men in monogamous marriages disrespecting, maltreating and brutalizing their wives, but my father was different in this regard. So, I chose the good part of him and discarded his bad part – I remain faithful to one woman, unlike my father, and respect her, just like my father did. Generally, my father is a very calm and generous man. While I was young, and living in the village, my father, who was working in Lagos, was always coming to the village with gallons of diesel to share to our neighbors, friends and family members. He was a philanthropist and took good care of his parents. Even when we did not have food to eat, he made sure his parents always had food to eat. Today even though he did not train all his children because we were much, that seed he sowed into his parents' life is what inspired me to take care of him now that God has blessed me considerably. I bought him a car and completed his uncompleted building of 22 years. By the grace of God, I am sending him to the United Kingdom for holidays. I love my mother quite alright but wouldn't say she really inspired me that much in comparison with my father. The only thing my mom does that I do not like is that she is never satisfied with what you give to her. If you give my dad five thousand naira he will ask you to kneel down and then he will pray wholeheartedly for you. He will say, "For giving me this money God will bless you and give you more."  But if you give my mom the same amount, she will ask if that is all that you came to see her with. If you give her something you need to remind her to appreciate it. But, in all, she is a lovely woman – she forgives easily even though she would complain from dawn till dusk.
Any awards received so far?
In 1996 when I was still doing circular music I became the best artist of the year in Delta State. It was organized by Erico link up Agency and held at NNPC Junior staff club Warri. In the year 2000, I won the Nigeria Golden Song award (NISOFEST 2000). It was held at the prestigious National Art Theater Iganmu, Lagos State. Contestants were drawn from the 36 states of the federation. My group Saint to Saint and I emerged the best in the whole of Delta State that year and were featured in the grand finale in Lagos where we won the Best Gospel Artistes of the Year. Sound Sultan was the best HIP- HOP artiste of same year. African China was the best Reggae artiste the previous year.
Who are the worship ministers?
Worship ministers is a group of worshippers who came together to worship God. When the lord called me in 1997 into ministry he actually told me to gather people to worship him annually. I did not know how to start but the lord gave me a clue, so any church I went to for ministration, I told them that I am led to raise a mass choir; people I can train to carry the same fire that I carry. After every ministration people wrote down their names and when it was time for training I sent text messages to everyone letting them know where we would meet. The first meeting we held was at Voice of God Bible Church. The worship ministers comprised people from different denominations.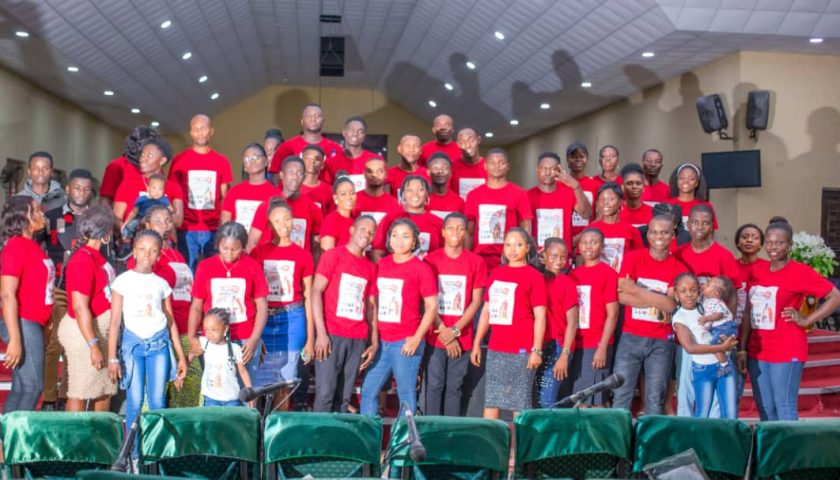 What was your greatest challenge at the beginning of this journey?
Gross misconceptions! Everyone thought that I wanted to open my church with their members. Most times, people twist your good intentions to appear bad. They will accuse you falsely over flimsy and on irrelevant grounds. I was attacked by ministers who stood on their altars to say that if I want to open a church I should go and open my church and start the way everyone else started and not hide under worship and miracles to steal their members. But I kept explaining to them that God called me into a worship ministry and not a church. Today the vision speaks for itself and I have forgiven all those who judged me wrongly.
How were you able to handle it?
By not answering anybody I just minded my business. In fact, in those days when I started worship and miracles, we place our banners at strategic spots, but on the next day, all the banners would be removed. In one of the editions, one banner was not removed but charms were tied to it, but I went there and I removed it as I did not believe in charms, I've always believed that I'm far above those things, no matter the height of it, so I just threw them away. These were some of the challenges especially because we were fighting tooth and nail to get those banners printed. Also, pastors started warning their members not to attend the programmes. All the aggrieved ministers started holding meetings and when they see the date of worship and miracles, they would fix their own program days before the day, on same day, or week long programme to keep members from attending worship and miracles. We started seeing worship and fire, worship and praise, etc. But today, those programmes are no more.
What is the vision?
It is all about raising true worshippers because one of the places you have challenge in the gospel music industry is having true worshippers.  As it is written in, 'John 4:23-24 'but the hour cometh and now is, when the true worshipers shall worship the father in spirit and in truth: for the father seeketh such to worship him'. When you are praying, you are looking for God but when you worship, God looks for you. So the vision is to look for those who are hungry to worship God in spirit and in truth, which are also ready to sacrifice their flesh. Praise leaders are very common to find; they are everywhere but worship leaders are few because when it comes to worship, your spirit, soul and body must be involved. Worship involves the spirit man and many people do not want to be spiritual.
How have you been able to nurture this vision?
God has been helping me. I have been in this town since 1990 but there's no woman except my wife that can say I have slept with her since I gave my life to Christ. This fact inspires a lot of the upcoming worship ministers – I have heard them many times say that if I can mortify my flesh, regardless of my gift as a singer, my physical outlook and wealth, then they too can. The funny part is that there are a lot of ladies around me, the worship ministers is made up of 80 percent young ladies. I am not saying there has not been challenges or passes made but God has helped me, my focus is my vision. To God be the glory.
Who are the partners?
Worship and Miracles began with less than two thousand naira in the sense that we didn't need to rent hall, chairs and instruments because we were using Voice of God Bible Church. What we needed then was just banners and being who I am, I would buy the materials and produce the banners. But gradually it got bigger and people started sowing seeds of money into the ministry. Later I studied the life of Reinhard Bournke. I was privileged to minister at one of his great crusades and I realized that people give a certain amount of money yearly to sponsor his crusade so I decided to do the same. In the next edition of worship and miracles I made an altar call for people who could give one, two, three or five thousand naira yearly to sponsor the programme and that day we had over two hundred people who wanted to be partners. So, I opened an account for that purpose. By the next edition, thirty percent of the two hundred initial partners were faithful, later it dropped to twenty percent. When God started blessing me, I bought a car, immediately after I bought that first car, all the partners stopped paying money into the account. I was angry in the spirit. The reason I was angry was not because they stopped giving, instead, I was angry because they were not giving to be blessed but because i realized they were merely giving out of pity. They were giving because I was poor. In the kingdom, you either give to be blessed or to tap into a blessing. When they stopped giving because I bought a car, I realized their motive for giving were wrong, I also asked myself if they are envious of me or if they were thinking i bought a car from the money they were giving towards the vision. But if I sum up what they were giving that time, it was eighty thousand and at most one hundred thousand naira and the programme at that time was taking three to four hundred thousand naira. So, I will still be the one to look for money through laundry work or any means, just to make sure the programme holds because any year worship and miracle did not hold I would fall ill. In fact until I gather people to worship God I would not be healed, no matter the medicine I took, nothing works. Today there are no more partners in Ughelli, the only partners who are now active are partners from abroad so majority of the blessings goes to them.
Have there been testimonies?
Too numerous to mention, there was one of an insane girl who sleeps at the cemetery and some zealous people went to the cemetery and brought her to the venue of the 3
rd
edition and immediately she stepped into the auditorium, insanity left her. She started worshiping God. Another girl possessed of the spirit of lesbianism who was fourteen years old at the time was delivered. She was a student and her parents had no knowledge that a woman in Warri was paying her heavily to sleep with her but as we were worshipping God she fell under the anointing confessed and was set free. Many more that time will not permit me to mention.
Any challenges since you moved the venue of Worship and Miracles to Living Faith Church?
Some people say it is because I am a winner's member that is why multitude gathers at worship and miracles. But that is not true, I dare others to come and hold their programme in winners and see if the multitude will come. It is all about knowing how to work with my superiors, Senior Pastors in Living Faith Church that counts because not all who are transferred to the church accept the vision. In fact I had to learn how to work with fathers because you can be highly anointed and highly not lifted and if you cannot work with fathers, your efforts will be frustrated. Some of them also accused me of trying to open a church with winner's members but some others saw it as the hand of God and supported the ministry. So if I am permitted to use the church auditorium, I do and if I am not, I rent any available hall. The reason I am actually taking it back to winner's chapel most time is that there is no hall big enough to accommodate the crowd. It is more of a household programme now.
How did you become a Pastor in Living Faith Church?
Prophet Jones Erhue, first saw the calling of God upon my life and he sent me to villages like Bomadi, Kpakiama, Ibiama on pastoral assignments and whenever he went to minister anywhere in the country I went with him. I was first ordained a pastor in Christ Reconciliation Mission. The first time I came to Living Faith Church, I did not stay.  I left. I went to Christ Embassy but couldn't stay. I was yet looking for any church to hang up with until I returned in 2007. I dropped my title of pastor because I wanted to learn but during father's day service, during Pastor Odia's time I was chosen to take the lead in the special number and after that song I was not allowed to sit in the congregation I was taken to join the choir and thereafter somebody nominated me to be ordained a deacon. I do not know the person till date. My ordination broke protocols because you are supposed to stay and serve for five years before you are ordained a pastor. During the week of spiritual emphasis, on Wednesday night, the Lord appeared to pastor Favour, the associate pastor and pastor Odia at the same time, and they both called me in the morning (I was the youth leader then) to ask If I was a pastor before I joined winners, I said 'yes sir.' and they asked me why I didn't say anything, I told them I wanted to learn but they affirmed that the Lord did not want me ordained as a deacon. So since it was day two of the week of spiritual emphasis, I was called up in church as pastoral nominee and ordained a pastor during the general ordination. But before then, I have gotten my spiritual ordination, far back.
What is the next phase for worship and Miracles?
The Lord has opened the next phase but we are not taking the lead, the reason is because I do not want to bother anybody financially. The next phase is taking it from campus to campus. Before I make any move, I want to be sure that ninety percent of what I want to use is in my hand and if anybody want to support, fine but they should not support out of pity anymore, but out of understanding of God' vision for them as they partake with their substance. I do not want what happened before to repeat itself that is why I am slowing down. If not, the next phase is to take it from campus to campus which is one of the reasons why I raised the B.U.T's
Who are the B.U.T's?
The B.U.T's are Pastor St. Kelvin back up team. They are the front liners. They follow me wherever I go, within and outside Nigeria, The B.U.T's are selected by divine leading, and the person must be a well groomed singer. It's not for trainees. Just little brush up take place for B.U.T members unlike worship ministers, where we brush everyone from the beginning and to make it hard, some of them do not take corrections, during the first rehearsals they would sing well but when they go home and come back for the next rehearsals, they will sing out of tune. For that reason I decided to look for people who know what to do already and they can also pay the price. The B.U.T's meet three times in a week, while worship ministers, meet once a week so their sacrifices are higher.
So what would you say the gospel music industry is missing?
Spiritual depth, majority of the gospel artist are missing it. They are missing that spiritual depth that we started with. The reason is that most churches do not know how to encourage and nurture talents. In fact eighty percent of the churches in Nigeria do not encourage those with talent – they rather use it and dump it. Imagine, somebody will come to your church to minister and after ministering you will tell him 'God bless you, you will go places, you have touched our lives with your ministration, God will reward you.' that is not good enough, the Bible says, 'they that bless are also qualified to be blessed as well'. Even though I do not want anybody to arrogantly ask for honorarium, I believe ministers should be giving something. Someone like me, even before I got to where I am now, God got me to where I am now and he is still going to take me further, I do not just go to programmes, if I am coming I know I am going to worship God, I do not charge people, I have never charged anyone in my life the only time somebody charged the people where I was billed to minister was in Asaba many years ago, one of my sons, Pastor Emma collected fourteen thousand naira and when I got there the spirit could not move and when I asked the Lord, why, and it was revealed to me. Consequently, I do not charge for ministrations, because no price can be paid for true worship. If most of them that charge for ministration are, asked to stand ground with me financially they cannot measure up to me because I allow God to pay me, not man.
What has been your experience from your travels round the world promoting gospel music?
It has been very dynamic but the spiritual depth is still missing everywhere. In fact many persons abroad do not have spiritual depth as they are not interested in first pleasing God. But when I minister, you hear people shouting, falling under the anointing, and running to the altar to give their lives to Christ, in the midst of the worship the Holy Spirit convinces convicts and converts them. In fact that has helped me, when I minister in one city it opens doors to more than five ministrations in other cities.
How is the acceptance?
Some of them do not understand the songs I sing but they cannot deny the move of the spirit in the ministration. But if I want them to flow along, I will sing a popular song or hymn which they know. But in all, the acceptance had been very positive.
Which is your favourite sport?
I love boxing it is very technical and brutal. I would have loved wrestling but the fights are not real, the punches are stage managed and I see their fights as child's play. I believe when you punch somebody he should stay down.
Who are those you admire and why?
I admire Mohammed Ali because he brought integrity to the division. At the time when racism was high, when blacks were seen as irrelevant, he was an exception – the only black man beating up white folks without being arrested. Though rich and famous, yet he spent half of his fortune feeding orphans and the homeless. He was a very humble person. I respect Evander Holyfield because he is a Christian. Before one of his great fights with Mike Tyson he went to Creflo Dollars church to sow a seed. When he was asked what he did in an interview to defeat Mike Tyson, he publicly said he went to church to sow a seed. You know people do not believe in sowing seed so when you hear it from someone of that level, you will have a rethink. I love Mike Tyson's brutal nature. He believes in himself even if he missed it somewhere along the line, in the sport of boxing he is still a force to be reckoned with just that he could not control himself. The person I love and respect most is Anthony Joshua. The reason is not mainly because he is partly Nigerian. I respect him a lot because he has a good character, the guy is a role model, apart from uniting the division many times WBA, WBC, four belts even though Andy Ruiz won him, we know that during the rematch come December 7
th
in Saudi Arabia he is going to claim his belt back as he did not take the first match seriously. Apart from his belts, he is a loving person. He has a very good character.
How do you select the "theme" for worship and miracles yearly?
It is strictly inspirational. In the midst of the worship God will drop the theme for the next edition in me and I will announce it. It is not that I will seat down somewhere and be brainstorming, no! God drops it with supernatural ease.
What should attendees look forward to this year, the 13th edition, with the theme worship and request with scripture drawn from Mark 5: 1-6
The best way to reap the blessings in this 13
th
edition, once you get into the church auditorium, ask the ushers to give you worship and request prayer cards, then write three most important prayer requests that you want God to grant you. When the worship is on, make sure you are involved. On one hand is your worship, on the other hand your request. I usually say that any request wrapped in worship will always produce result. God cannot throw it away. Better still, one should come fasting.
How would you describe your personal style?
Because of my upbringing, I am not a religious or traditional person. I am a Christ focused person. The bible says 'Let this mind be in you which was in Christ' not which was in the church.
When you dress which image do you project, that of a worship minister or a pastor?
Wherever I am going and whatever I am going to do for the day determines how I dress. If I am going to minister and I know that the place is going to be filled with youths I will dress like a youth but if it is going to be more of adults, then I will dress to fit in.  But if I am not going for ministration I like being free, my polo T-shirt and Jeans will do. I can wear jeans and T-shirt all year long. But l always looks neat and smart.
Any fashion or beauty routine you observe?
As for fashion, I wear Bsing and Pele and recently Valentino. I visit the spa every month. I do not know of any man of God who does that but I do. I go for massage, manicure, pedicure; I jog and do road works because you must keep fit. I am not a one sided person, I believe that your spirit man, your physical man and your looks should be in order. One of the things I also tell myself is that whatever anybody has, anything that is good, is from God.
What is one fashion item, you cannot do without?
I love shoes and wristwatches. I can spend one million naira to buy a good wristwatch.
Humble beginning to where you are now
In 1990 we moved from Sapele to Ughelli staying at Saniko a village close to Gana on your way to Agbarha.  My parents were struggling so I left for Warri in search of green pastures but after my encounter with God I returned to Ughelli again and I went back to my father's house and I told myself if there is any way to come out of poverty I must look for it. I found out that people buy fire wood a lot and my father was in charge of some land owned by my grandmother so one morning I stormed the family land and cut down the rubber trees. I was able to cut fire wood that day that filled a Nine-Eleven trailer and I sold it and used the money to rent one room in Ughelli. I remember I used to trek from Saniko to Ughelli for church service at Trinity Gospel Mission held at Rega Cinema, Edoge Street. I had one black trouser, one carton colour shirt and shoe and I wore those clothes for six years. I wash them twice a week at night. After I rented my house, there was no money to feed so I started doing barbing job, became a conductor for Ughelli Warri bus, picked condemned aluminum from refuse dumps and at some point I was employed as a house boy. When I was leaving my father's house, I told them I was not going to bring trouble to them but I will do everything to make them proud. The struggle was really high and after I gave my life to Christ I became a church boy as I lived inside the church building for more than five years. If I see food I eat, I use to break my fasting with continuous fasting if there is no food. I was the one teaching adult and children choir, sweeping and clearing the church surroundings. After a while I left prophet Jones Erhue, came to Voice of God Bible Church where God gave me the vision for worship and miracle. The first vision he gave me was on 'living question' I use to gather youths together and advise them, then there was 'amazing discovering' the youths were encouraged to locate and showcase their talents. As a houseboy I ate food from the remnant thrown in the sink but today my house which God built in less than six months by his own provision out of the honorarium he gives to me through worship ministration is sharing fence with the house where I was once a house help. When I go for ministration people give me money. Then others come to meet me at the hotel for prayers and when they see results they send money into my account and this happens in the different countries I go for ministration but people in Ughelli are now saying that I am into 'yahoo', money ritual etc. I look at them and laugh but some of them in my heart I place a curse on them. That is the truth because when you do not understand something, do not give it a name until you understand it. These people saw me suffering; there is nobody in Ughelli who will tell me they did not know me when I was suffering. At a point there was a sister called Best, living in Akpodiete Street who was giving me food to eat then during prophet Jones days, she was the one who asked me to be coming to her house to eat, because sometimes when I sing in the church you will know that I have not eaten. One of those days when I went to her house to eat, she told me 'do not come and tell me one day that you have fallen in love with me. I am warning that love in advance' that was the last day I went to her house to eat. I suffered a lot but God changed the story because it is written in Exodus 25:25-26 "and ye shall serve and I shall bless" the blessings are speaking and will continue speaking.
How have you been able to manage your family life?
My wife and children are my priciest jewels. After I finished a forty days fasting programme, I was not satisfied so I did another three days dry fast and Abraham African Church at PTI road, Warri invited me to train the choir members because I am a voice therapist as well. October 2
nd
I stood at Akpodiete junction and was telling God, Lord I am due for marriage as my body is no longer cooperating with my spiritual life I need you Lord to help me and the Lord spoke to me as I stood there waiting for a car going to Warri. The same voice that told me 'it is time' at the club spoke again saying 'you will meet your wife where you are going'. When I got there I saw different ladies but I did not talk to anyone, finished teaching them and left.  Two weeks later I met my wife a member of the choir I taught in Warri, we got talking and one day the Lord said to me, that is your wife. For my wife, she said somebody appeared to her in her dreams that, that is your husband if you play with him, you will miss it. We struggled together, we soaked garri together. Some persons when they see my wife, they are like she is just lucky, no! we have been married for twelve years. Our wedding anniversary is August 24
th
a day before worship and miracles and we were friends for more than four years before we got married. People look at her like one small girl, no she will be clocking 40 by December 18
th.
I remember when we were struggling, there is one bag my wife use to carry, and I still have it just the way I kept my first shoe. She will go to Warri to meet her elder sister who is also married to a pastor and in that bag there will be yam, plantain, garri, beans and rice. She would take it without their permission so that we won't die of hunger. For me then, if I am not the one providing for the family I should not eat. That was my ideology but she would plead with me to eat and I would refuse but when hungry pangs wake me up at night, I would sneak to the kitchen and eat. My wife could turn anything into food, if you give her one thousand naira, five hundred naira, or two hundred naira, she would make food. The most beautiful thing my wife did while we were struggling, (and still does up till today) is that she will never put pressure on me to buy her anything.  That was why when God now started lifting us, I bought her the first and second car and I'm still going to buy her better things. I have placed my wife on salary and I do not think some people working in the bank earn more than her because she has paid the price. Before I met her, there were many ladies who came, they did not just break my heart, they grinded it. Some looked at me and said I was too small for their liking, others said that I was not in their class. But my wife accepted, love and respected me in every condition.
What motto do you live by?
Purity and transparency, no matter how swagalicious you want to look, let your spirit man be in order. Then know that in life if you do what is wrong, there are people who will like it or not like it. If you do what is right, there are people will like or not like it, so please God and please yourself leave the rest. Purity and transparency, no matter how swagalicious you want to look, let your spirit man be in order. Then know that in life if you do what is wrong, there are people who will like it or not like it. If you do what is right, there are people will like or not like it, so please God and please yourself leave the rest.
About Post Author