Toby Frank-Pepple is a Consultant, Entrepreneur, Horticulturist and Photographer born in Warri, Delta State in the 90s. Purposeful and relentless in all his endeavours, Toby has a can-do spirit and would not settle for 'good' but reaches for 'great'. He recently delved into making Ankara umbrella, phone pouch, plates etc. He takes great pride in mentoring the younger generation to understand that it is cool to serve God, while helping them in identifying and harnessing their talents.
In this interview with Omamuzo Efidhere, he speaks about his journey, experience, vision for his brand and how he intends to live life without limits.
Tell us a bit about your background?
I am Toby Frank-Pepple, from Bonny Island in Rivers State Nigeria. I was born into a middle-class, very loving but strict and principled Christian family that lives in Warri, Delta State Nigeria. My father was a Public Servant working with NNPC and my Mother, a self-employed Fashion Designer. My father was transferred to Port-Harcourt shortly after my birth. We did not have everything but by God's special grace my siblings and I barely lacked any essentials, thanks to my parents.
Educational qualifications?
I attended Bereton Montessori Nursery and Primary School and Jephthah Comprehensive Secondary School both in Port-Harcourt, I did my A-levels/ International Degree Foundation Program at Global International College, Lagos and subsequently went to further my education in England, Diploma of Higher Education-Law:University of Bedfordshire, England, Bachelor of Science – Government & Public Administration Baze University, Abuja, Nigeria.
Work experience?
Anglian Home Improvements, Luton Town, Bedfordshire, England – Sales Representative; Evaruth Solicitors, Utako, Abuja: Legal Researcher (Graduate Internship); National space research and Development Agency, Abuja – Students Industrial Work Experience Scheme (SIWES); Apps Haven and Rudeehall Nigeria Limited, GRA Phase II Port-Harcourt – Head of Strategic Planning and Public Relations; Macedonia Global Investments & Pee Jay Farms Limited, Abuja – Head of Marketing and Commodity Trading
Michelle-Meloy Foundation, California, USA – Africa Liaison and Public Relations Officer (Volunteer)
Positions held till date?
Artist Manager – Uviboy aka The Rap Priest: H.I.S Records Head of Marketing and Commodity – Trading Macedonia Global Investments & Pee Jay Farms Limited; Africa Liaison and Public Relations Officer (Volunteer) – Michelle-Meloy Foundation; Liaison Officer- Apps Haven and Rudeehall Nigeria Limited;
Creative Director – XQUAD VENTURES X SHONA 100%Ankara; Co-founder – The MOOVEMENT ENT; Provost, 13th Set Cabinet – Centre for Leadership, Strategy and Development.
Awards received?
Award for Outstanding Consistency and Dedication – Sustainable Development Goals (SDG) NYSC CDS Group, Karu Local Government Area, Nasarawa State, Nigeria- June 2019.
Tell us briefly about your operations as a consultant?
My operations as a Consultant entail focusing on all sorts of organizational concerns from strategy to a variety of management elements. My aim as a Consultant is to help improve the performance of operations in the areas concerned, finding new and better ways of doing things and reduce costs & make savings where necessary.
As a consultant, I like being in the middle of all the different pieces that need to be put together and figuring out the processes that needs to be put in place to fix the issue.
What led you into making of Ankara umbrella, phone pouch, plates etc.?
My mom is a fashion designer and we realized that a lot of people love the Ankara print but felt restricted to using it strictly for clothes. We envisioned that since people love these prints we can definitely be more creative with it, in turn promoting our Proud African heritage and give the public more options to showcase and satisfy their love for the Ankara prints in different forms.
How did you raise money to start, how do you source for materials, who does the designing and where do you produce?
My mother has always been a fashion designer, so the capital was raised from the proceeds of her fashion designing and investments from my dad, so the money was raised internally from my family as God would have it.
We get the materials from various trusted sources which are trade secrets, my mom and I do the creative designing which is mostly inspired by African prints and where we produce is also a trade secret.
How do you market your brand and supply products to clients outside Abuja?
Marketing of the brand outside Abuja is done by digital marketing via various digital platforms like Facebook, Instagram, Twitter, Jumia, Konga and various blogs, also through word of mouth and referrals from our existing loyal clients/customers.
Who are your core clientele, how difficult or easy, was it convincing clients of your brand?
Restaurants, High end retailers and the Elite due to our prices and target market as regards to maintaining a certain standard and reputation.
What is it like running your own business, describe your typical day?
Running my own business is very tasking and sometimes hectic knowing and living up to the fact that the onus lies on you to ensure that the business stays afloat and keeps running effectively and efficiently, notwithstanding setbacks and challenges that may arise.
My typical day involves waking up and praying to God, working out/exercising, prioritizing and structuring the day's plan, making calls, responding to emails, staying in constant contact with clients and business partners, networking, ensuring that completed projects are delivered to clients, strategize and brainstorm for solutions to pending/posing issues, attend meetings if any and call it a day.
What has been your biggest challenge in day to day operations of the business, what lessons have you learnt along the way?
My biggest challenge in the day to day operations of the business is how to joggle activities of the various businesses. I have learnt to prioritize my activities using table of preference which obliges me to attend to the most important projects/activities first. I have also learnt to focus more on getting the job done, as opposed to focusing only on the monetary aspect, a reputable brand name will attract clients to us, yielding enormous financial turnouts for us in the long run.
Entrepreneurship has its ups and down, do you ever think of quitting?
Once in a blue moon when things are difficult and do not go as planned, we all have that urge to quit, but the thought of how much there is to lose if I quit erases that thought completely.
What would you say is the unique formular that has aided your success in business, where do you see your business in the next five years?
Staying prayerful to God, staying true to myself and consistency is the unique formular. In the next 5 years I see my business reaching an International level.
Who has inspired you the most in business and why?
Jeff Bezos because he has a very wonderful story of faith, patience, consistency, perseverance and eventually success.
What is the best advice you have received as an entrepreneur?
Just deliver! Let your work speak for itself.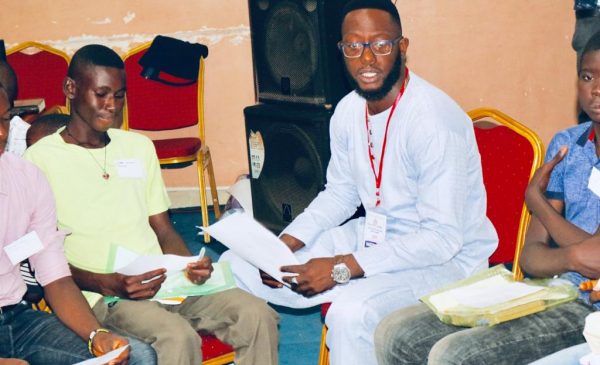 What are the most important values in business and life?
Stay true to yourself, Trust the process, honesty is key and always remember that hard work pays off.
As a horticulturist, how long did it take for you to decide to vie into agriculture?
I am just a Horticulturist for now and I intend on venturing into animal rearing in the near future. I have been interested in Agriculture for time immemorial; therefore as soon as an opportunity arose to be a part of it, I jumped at the opportunity quickly and unremorsefully.
What was the first step you took, what is your goal?
The first step I took was to join an Agricultural cooperative and my goal is to create and establish a Young Farmers Cooperative Scheme that will encourage more young farmers and entrepreneurs to explore the world of Agriculture.
What is the future of farming in Nigeria?
Farming in Nigeria has a very vast and bright future. It can hardly go wrong and there is space for everyone, we can never have too many farmers taking the size of our population most especially, into consideration
What appropriate Agricultural policies can government formulate to promote and encourage Agriculture in Nigeria?
Importation laws which will reduce the importation quota of Agricultural products. Less imports and more investments in Infant industries will do the perfect trick. There is rarely anything we NEED to import in terms of Agriculture. Policies therefore that will reduce importation quota on agricultural analogue products and oblige investment in local Industries is very paramount in encouraging and promoting Agriculture in Nigeria.
If Government is to bound the importation of foreign foods can our farmers produce enough food for everybody?
Definitely! On November 6th 2019, the Woldometer recorded that there are 202.7 million people in Nigeria, more than half of this population are youths, the solution is for the government to encourage more youths to go into Agriculture by investing more in the Agric Industry and making Agricultural grants and loans more accessible.
Tell us briefly about your journey into photography, video etc?
I have had a passion for photography for as long as I can remember. I always jumped on every opportunity to be behind the camera, thereby teaching myself the skill gradually so when I found out one of my closest friend, client and business partner had a camera; I brought it to his knowledge that he had GOLD in his hands and the unlimited amount of income it can possibly generate. We decided to start up a media company called The MOOVEMENT ENT. and it has been a great journey from then on. It has been God all the way.
There was a time photography didn't have prestige, what is the situation now?
Thinking about it, photography did not have prestige before because of how analogue it was, there has been a paradigm shift in the photography industry now that it is fully digital, it is therefore no longer seen as a menial job because of the enormous amount of income and fame it can generate and this paradigm shift has created various genres of photography.
What is the name of your outfit, how did you come up with the name?
The name of our outfit is The MOOVEMENT ENT and we came up with this name in the process of brainstorming on how to structure the company, we decided that we wanted to start a movement by working and collaborating with other photographers and videographers and also mentor and train upcoming photographers to harness their talents. One of our goals is to make the MOOVEMENT a PHOTOGRAPHERS' HUB; we believe in collective effort and the fact that "TEAMWORK MAKES THE DREAM WORK".
Getting money to buy equipment is usually the challenge with photographers just starting out, how did you raise money to buy your first camera?
Fortunately we did not have to raise funds for the first camera because it was systematically inherited by my business partners from his mom who bought it for personal use.
What was it like shooting your first event?
It was simply surreal, majorly due to the fact that I did not believe that I would be able to pull it off, but fortunately by God's special grace, my team and I did a great job.
Who are your core clientele, how difficult or easy, was it convincing clients of your brand?
My Core clientele are the Elites, Restaurants, Offices and hotels. It was not really easy because most people expect us to compromise on the prices, but our company policy does not condone that, on the other hand it is not so difficult because of our already existing network of clients and customers and the natural love people have for ankara combined with the innovations involved serves as an advantage.
Do you have partners and what makes you different from other photographers?
Yes, we have four partner photographers and what makes us stand out is our class, work ethic and the mode of creativity and broad genres of photography we are involved in.
What is trending now with photography?
Investigative Journalism, Documentaries and drone photography.
Between your parents who would you say was more influential in shaping your life?
Both of my parents are equally as influential in shaping my life because they both played their collective roles to ensure that there is a balance in the shaping of my life.
You mentor youths and organize Christian youth programmes and camps, tell us all about this initiative?
This initiative was inspired by one of my mentors Dr. Ejiro Otive-Igbuzor, and it is basically about making the younger generation understand that it is cool to serve God, at the same time helping them in identifying and harnessing their talents, ministering to them through various means such as music, dance, drama and heart-to-heart and talk sessions.
Are you involved in any foundation work right now?
Yes I do! I am the Volunteer Africa Liaison Public Relations Officer for the Michelle-Meloy Foundation (MMF), an American Charity organization that offers humanitarian services majorly in the area of social inclusion. We paid a courtesy visit to the IDP camp in Jos, Plateau State in December 2018 and we are currently involved in structuring and providing a sustainable means of survival during and after their transition back to their various settlements, and we are currently working on a project called ACCESS-ABILITY that focuses on people living with disabilities.
I also just became a Volunteer team member of another foundation called the Frontline Human Development Initiative that focuses on human development in the areas of Capacity Building, Skills acquisition and Women Rights Advocacy. We are currently working on a project themed "Mobilizing Men for the Advocacy of Women's Rights"
Any plan of delving into politics in the future?
Definitely! That has been one of my greatest dreams since I was a child and I am not from a family of politicians, so I feel a bit inclined to take up the mantle. I also want to be able to make a difference in our country and stand out in my generation to ultimately leave my footprints in the sands of time. I am presently undergoing a Leadership Course/Training at the Centre for Leadership Strategy and Development, in Abuja.
What motivates you?
First of all, knowing the greatness that lies ahead of me is the greatest motivation. Also, the fact that a lot of people believe in me and look up to me motivates me to work harder knowing that it is not just about me, I feel obliged to make those who believe in me and look up to me very proud and that's one of the major factors that motivates and keeps me going. Furthermore, I know I have a lot on the inside of me, so being blessed enough to have various opportunities and a platform to express them is also great motivation for me.
Who are those you look up to for inspiration?
God!
Which is your favourite sport, favourite club?
Basketball – Lakers.
Who are those you admire in your favourite sport and why?
Lebron James, James Harden and Kevin Durant because they are all round players and the amount of dedication, they put in developing themselves individually, making the great team players.
How would you describe your personal style?
Simple but classy, I believe in the principle of "less is more". Simplicity is key for me every time.
When you dress which image do you project?
I believe in dressing the way you want to be addressed, so when I dress up I envision the picture that outfit will portray about me.
Any fashion or beauty routine you observe?
Creaming and combing my beards and my hair. That's all.
What is one fashion item, you cannot do without?
Wristwatch.
What motto do you live by?
Do your Best and leave the Rest to God!
About Post Author