Edhuze Ebenezer is a Computer Graphics graduate of Delta State University and a cyclist from Isoko South Loal Government Area of Delta State . In this interview he talks about his passion for cycling, his team; Future Step Cycling Club and his dreams of becoming a lecturer. Excerpt:
Tell me about yourself, where are you from, educational background and schools attended?
I am Ebenezer Edhuze, I am from Oleh, in Isoko-South Local Government Area of Delta State. I have B.A in Computer Graphics from Delta State University Abraka, I got my Senior Secondary School Certificate (WAEC/NECO) from Unity School, Agbarho, and my Primary School Certificate from Total Child Nursery and Primary School.
Why did you choose cycling as a sport?
I do cycling to keep fit. It is my passion.
What is it about cycling that you loved so much?
Addiction, it gives me excitement.
How old are you and how long have you been riding?
I will be 29years old by the 10
th 
of August. I have been riding for 7years now. Throughout my Tertiary Institution Level, I used bicycle as a means of transportation and also to train myself. In the Year 2017, I joined a team, the Future Step Cycling Club
Have you ever crashed? Was it a minor or major? How did you overcome the fear and got back into riding?
Yes, I have crashed before. It was a minor accident. My zeal and passion keeps me going.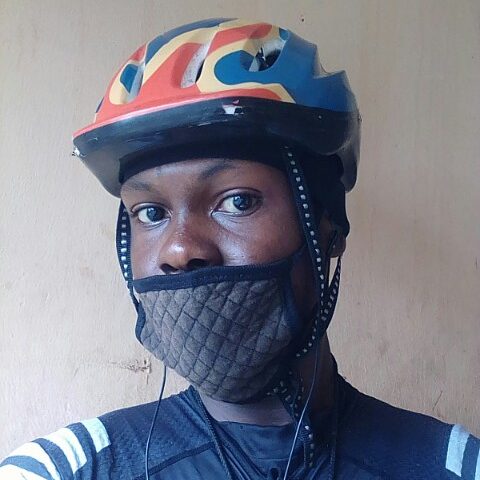 What lesson did you learn from the crash?
The lesson learnt was that, I should never hold my front brake hard at a bending corner on the road.
How much longer do you plan to ride?
I plan to ride for the next 15 – 20years officially. Old age won't stop me from riding permanently.
How far have you traveled cycling, aren't you afraid of being hit by a car?
Patani, Warri, Oghara and Abraka. No, I am not afraid of been hit by a car.
Do you have any strict diet and training exercise?
No strict diet. There are training exercises.
How important is cycling to your overall health?
It clears my system. I am able to breathe well.
What is the biggest cycling challenge you have faced?
Convincing my parents to get me a road sport bike was a big challenge. Cycling kits are very rare and expensive. Also riding alone to a distant town for the first time.
What happens if you have to pee in the middle of a race or trip?
I empty my bladder before cycling and sip little water when riding. If I have to urinate along the way, I make it quick to be able to cover the time lap I missed.
Do you enjoy cycling by yourself or in a group?
I enjoy cycling alone but I enjoy it more when in group.
What are the essentials, you wouldn't ride without?
Brakes, pump and my music phone.
How and when, did you learn how to ride?
I learnt how to ride in my compound when I was a kid. Somebody held the bike for me from behind, pushed me and left me without my knowing. It took me about three days without been held at the back before starting.
What kind of feelings does cycling awake in you?
It gives me excitement. When I am bored and have nothing doing at the moment, I cycle out.
What are your plans and dreams aside cycling, what do you want to become?
A lecturer and an artist. Who are those you look up to? My coach, Comr. Philip Ishaka, Abdulmalik, Bright Emmanuel, Miebaka Aggo of PH team.
What motivates you?
My passion motivates me.  I draw inspiration from watching videos on the net. That is why I want to turn my passion to a profession.