Dr. Mrs. Janet Oyubu is an astute politician, founding member and Delta APC state women leader. She is a role model to women in politics, successful business woman, mother and a committed Christian. In this candid interview with Omamuzo Efidhere, she addressed sundry national issues and issues affecting women in politics
Excerps;
Since your resumption as APC state women leader have you recorded any success?
Yes. So many successes APC as a party was brought to Delta State by Senator Pius Ewherido but unfortunately he did not stay to propagate it and allow it grow before the untimely call to glory. We prepared the platform for everybody playing on it now, APC women of Delta State in particular. After the demise of Senator Pius Ewherido, we started again with Olorogun Otega Emerhor as we were all out to correct and change the misconceptions the general public had of the party. They looked at us like two left legged people because they assumed then that APC was synonymous to a northern party and ascribed it to Boko Haram. It took us the grass root APC women going from ward to unit, local government to local government to convince the people that it was not a Boko Haram party.  Nobody ever thought then that APC will scale through but the women of APC were one hundred percent confident that through our hard work, prayers and robust campaigns the party will emerge victorious at all levels at the general elections. We took it more than serious then, believing that we would produce the next governor of Delta State, only to make it at the national level and that changed our story. APC became a house hold name. People from the opposition party who thought that I was on expired valium because of my unshakable believe in the party called and congratulated me that my vision was very far and clear.  More people became interested in the party than just a handful of us before victory. It got to a stage; we opened the doors wide for all other opposition party to join us so that as opposition, we can be a force to reckon with. More people crossed over from PDP to join us as they saw light at the end of the tunnel. So we have been growing from strength to strength, level to level until where we find ourselves today by the grace of God. I think I am the first woman leader to produce the Deputy Senate President, I have a member of the House of Representative, I have three members of the House of Assembly and many more are coming because I still hope to get some more senators, house of representatives, house of assembly members and I am hoping by faith to get the governor to change the entire story. It has been a lot of hard work but the tremendous success came by the support and participation of all concerned APC women.
How many local government areas do you have your presence as women?
We have presence in the twenty five local government areas. Our population and numbers are more in the practical sense of it. There is no ward, unit, and local government area in Delta State that you don't have our structures. We are firmly on ground. We had Senators, House of Representatives members and women councilors before. In Ika South and North we had the likes of Engr. Doris Ugbo who represented our interest as a senator.
 What are some of the changes you intend to bring to hear in terms of party politics, appointment and position for women?
When it comes to appointment for women from the national the 35% affirmative action was not being fully executed. But by the grace of God and the deep commitment and input of our first lady, the mother of the nation Dr. Mrs. Aisha Buhari, she has worked so hard to make sure that we meet that bench mark of 35%, you can see the increase in the number of women that were given ministerial positions. It is singularly her effort to see that women are carried along at all levels.
In terms of gender performance, was the 2019 general elections good for women?
I will say yes because a lot of women indicated interest and participated. I will say no because the system is not too friendly to women. Women do not have huge sums of money to throw around like their male counterparts. But women have improved so much that they want to go through the whole process like their male counterparts. They no longer rely on gender favoritism; they brought in so many innovations. Women are more meticulous, they do not tell you to collect rice and salt today then wait for the next four years before being remembered rather they did a lot of empowerment in terms of skill acquisition while campaigning. They gave fabrics that would change people's wardrobe. Something that they can remember and cherish and say we campaigned before as fellow women and this is what I got from a woman like me. They brought innovations like grouping the women to form cooperatives, telling them the implication of taking two thousand naira for four years and eating one cup of rice for four years, they so changed the narratives that the grassroots women are now aware and more enlightened than they use to be. They are no more bench warmers in the system; the grassroots women are now reverting to what will you do for us when you get there if we give you our support.
But what can be done to ensure that the 35% affirmative action is not only on paper?
More actions are taking place, the president's wife, the first lady of the federation has emphasized that those women who went out for every campaign and worked assiduously for the success of the party will be dully recognized and compensated. As I speak with you, those in charge are collating names from ward to unit, and local government to local government with their telephone numbers attached. This is not done on favoritism or I know you basis. They are being selected based on their performance during the last election. The INEC register is being used to confirm their claims not hear say. Many women delivered their polling units because the narratives changed, so their names are being collated to make sure that the 35% affirmative action is a reality.
What can women who have held high position in government or in the corporate world do to support other women?
Women, who have held high positions in government or in the corporate world cannot say because you are a woman, take two million naira and take care of your wants. No there is no food for a lazy woman. Do not expect them to come out with their bags of money and start distributing. Rather what they are doing right now is support others through their NGO's. Some are taking care of the society by providing succor to the orphans, widows, etc. while others are making sure that women are no longer idle and jobless. They empower these women through skill acquisition, giving educational support and training where needed. They organize sectional meetings to give them little funds through corporative to startup their businesses, those who are farmers have been taught to identify crops to plant for more output. They have also gone to the next level of creating an enabling market for their produce across and outside Nigeria. They are doing so many things to encourage grass root women.
What is the place of women in the society?
So many, a woman is a mother, housewife and a sanitizer in the system. She is a moral harbinger. She means so many things in the society, without a woman the society is not healthy. If morals, ethics, civil mannerism breaks down in one woman, it effects majority of the society. A woman is a role model in the society.
Are there limitations to what a woman can do?
Not at all, most of the vocations that men are known for, women have invaded them. Like the skill empowerment trainings that took place before the elections, women opt for electrical repairs of appliances like televisions, refrigerators and cars. They no longer just go for the normal women stuff of fashion and design, catering and baking. Before now at building sites, they were known to be helpers in carrying of concrete, now they are molders and builders. We have seen recently that at old age, more uneducated women want to attend extra moral classes to learn how to read and write so they can put their names down on paper and sign their forms while opening accounts. There are no limitations to what women can do.
But women are still being short changed during sharing of appointment after working for the party, what will be your advice to women in such predicament?
The women have to wake up and follow the process of getting the appointments. Because when you have worked, the man you are hoping on to help you secure appointment, is going to answer his own name first before your name because he believes he is the head. Why will he go and look for appointment for you or give you a position when he has not gotten one for himself as a man. It is not that women are short changed. Do not sit at home and say I want appointment, you must hold the person who made such promises to you during campaigns and if he is not listening, you form a group to press for your demand. I am the APC women leader of Delta State and my women are telling me that they are not going to work for nothing. They say even if they do not possess a degree or primary school leaving certificate, they should be attached to principal staffs as aides. For instance, Rev. Waive gave so many women political appointments as aides and advisers. Appointments must not to come from the Governor's office alone. Members of House of Assembly, Representatives and Senators can appoint women as aides becomes those women are mobiliser when it comes to campaigns before elections. Women should not sit down and fold their arms and wait for somebody to give them appointment, free food, (breakfast in bed) no it is no longer so. Women should learn to go through the same process the men go through to get their appointments as you may even get more.
How did you get into politics?   
The late senator Pius Ewherido came to my house and made me his woman coordinator and women leader in his personal campaign organization. I never knew I would be a politician any day because I was doing my business in a man's world. I was into oil and gas, offshore catering, he actually propelled me; he brought me out of my shell. I love people, but I never knew that politics was fun and that it offers a wider platform where you can reach out to more people than you can ever do individually. You meet with so many people; rich and poor, great and small, people that you would love to reach out to after you have made it. The standard late Senator Pius Ewherido set for us for a start was very high, may his soul rest in peace because since then we have seen and worked with other politicians, and you just have this feeling that if it was Pius he won't do it like this. Pius was one wonderfully gifted human being who could reach out to the rich, middle class and the poor. He was a highly intelligent man.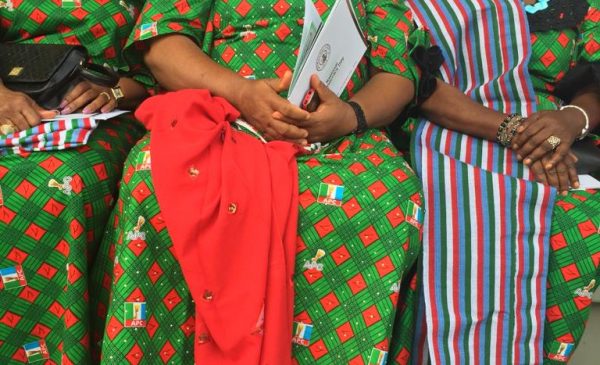 How have you been able to keep your home and still be involved in politics as the word out there is that married women cannot be politicians without misbehaving?
No the men do not need to sleep with women nowadays before they can become politicians therefore the women do not need to misbehave. Also we teach the women coming into politics morals, because if you sleep with a man, whatever position you are sleeping with the man for, the man needs that position more than you politically. So you are only wasting your time. It is also not true that women who are involved in politics misbehave. A woman who does not have moral conscience will not have whether she is involved in politics or private business. As a successful business woman, the same way I comport myself with great dignity in growing my business to the level it is now is the same orientation I brought into politics. I am appealing to the men not to put up barriers around their daughters, sisters and wives who desire to be politicians because women look after themselves. The woman who has high moral consciousness will still carry it everywhere she goes to, to protect the home front. Everything you get in life is from hard work, money comes from hard work women should not be deceived.
Are you encouraging more women to be involved in politics?
Although every woman is a politician because they manage their home front, more women should join active politics. Because if women continue to sit back and watch what is happening they cannot correct the ills happening in the society. So, more women should come out.
 What can be done to quell some of the in house quarrels amongst APC chieftains, as people are of the view that the party will go under soon with so much rancour?
The party will not go under but continue to stand strong because the pharaoh that was in the house before is no more there. Everybody now knows their strength, when titans fight, they put their strength to test and the strongest emerge winner. The pharaoh we saw yesterday is no longer with us and from what has happened; it is a new dawn for the party. There is nothing like disunity, what brought disunity before was me, myself and I.  Now that we have learnt that a tree cannot make a forest and only one man cannot beat the drum, dance and applaud, we now know that team work is better than individual gains.
 So what is the best way forward for APC in Delta state?
Unity is strength. That is the symbol of our party. Only one broom stick can be easily broken but when more are bound together, no one can break them. If we do not put greed and self before the interest of the masses, the sky will be our beginning.
 How would you rate President Buhari's performance in the critical areas of economy, security and corruption these past four years?
For President Burhari as an individual, he meant very well for the country but he cannot be in the thirty six states including the federal capital territory at the same time. For me, he has done marvelously well because without his emergence as President, in 2015 I dare say there would have been no Nigeria today because it would have been worse than what we are seeing now. What everybody, especially the opposition is highlighting now, has been there for years, just that nobody dare bring it out because more people where benefitting then. Buhari is a father, he wants to fight the ills and irregularities but those benefitting from the ills and irregularities are fighting back at him. He needs our support. He has done very well if you ask me to rate him.
But the economy keeps going down?
The Economy has greatly improved, it has not gone down in any way what they called buoyant economy before was the leakages, loots and kickbacks coming from our common purse. Now that Mr. President has blocked all the holes, there are no more leakages, loots and kickbacks, no more business as usual. If you are a civil servant, and by virtue of your position in the office, you make fifteen thousand every day aside your normal salary, the tendency of you squandering ten thousand naira every day will be there but now that you do not have excess income outside your salary that is what is affecting everyone. They think the economy is down, no the economy is stable. People should face reality, as there is no more free lunch or free monies.
But in terms of security, there seems to be more killings than before?
More killing now than before yes, it is because people do not want to work. Many people no longer want to go out there to hustle either as businessmen, office workers or politicians before they enjoy big and good life. Money to live a big and good life will not fall from heaven, because there are no more manna's. Take a look at the Adenuga's, Dangote etc, they started from somewhere but nowadays people do not want to start from scratch. As businessman/woman in the olden days you count from one kobo to two kobo. Now they want to count from trillion down to billion and you cannot start from trillion to billion you start from one naira to one hundred naira until you save enough to match the life style you want to live. The life style people of this generation want to live is too high compared to their source of income. Their source of income is not proportionate to the kind of life they want to live so they are critical, they want to go out there and do whatever they can, to get money by fire by force.
But some people blame this attitude on the high rate of unemployment?
A man that steals before will always steal job or no job. There are many graduates male or female out there who work in hotels, eateries, private schools, etc. others are farmers who rear fish, goats, chicken, snails, pigs, some are even horticulturist they plant pepper, onions, okra etc these ones are hardworking young entrepreneurs. Just that the lazy ones outnumber the hardworking ones.
What would you say should be the expectation of Nigerians in his second tenure?
The President is going to consolidate on the gains he made in the first tenure. We made so many gains just that they are not being highlighted. Those who drew us backward before are thinking that they can get power back through the back door but it cannot happen. The President has a standard he wants us to meet in order to get back our lost glory but we feel we can get the glory back through our old crooked ways. It doesn't work that way. The change should start from you and I. Self-realization by reorientation of our mind, if you are used to living extravagant life before, cut your wants to your needs. If we start from there, we will get somewhere because we are used to our wants not our needs but I think from this last four years we are returning back to our needs and not wants. There is no reason why some people should steal billions of naira and hid them in bank accounts that are not being touched when we have the homeless, jobless, orphans and widows scattered everywhere without any means of livelihood. If we learn to live to satisfy our needs and not our wants, we will help the President to consolidate on the gains he made before.
In most quarters, the president is seen as slow, a perfect example is how long it took him to release the ministerial list?
He might look slow to them but if you are the president of Nigeria, you will understand that the pressures are high. You did ask a question of how we reach out to people who have worked for the party and are to be compensated. Compiling this list is not easy as some people who did not work for the success of the party during elections are the first to arrive Abuja to collect the position of those who have worked for the success of the President. So he needs to take his time even if he did not get all right, to know those who are the real politicians and those usurpers  who are frolicking all over the place in Abuja. Some are just there with loads of money to usurp people after their hard work. There are few mistakes in the ministerial list but you cannot also blame the President because if he intends to do it right, those who claim that they were on ground will confuse him further by saying that they were part of the team that gave him his first victory at the polls. If he dares to listen to pressures from the majority, he would not have released the ministerial list any time soon.
You mentioned earlier that you have produced the Deputy Senate President, do you see that position impacting the South South, Delta state and Delta central?
It will impact first, the senatorial district, Central Senatorial District because that is his primary constituency. He is the only senator of the party in the state, so he is going to carry the extra burden of North and South Senatorial District. As deputy senate president, he has to treat everyone in the South South and other regions as his constituents. He will try his best, even if that office cannot carry the work load, the little he can, I am sure he will do. He created a platform for that before; he started the market women empowerment with the little money he made from his first tenure. It was the first of its kind in Nigeria and his package was more robust than the federal government package of ten thousand naira. He gave twenty thousand naira to every woman irrespective of political affiliations and tribe. When we tell him then, that this person is from PDP, APGA or this person is not an urhobo, he will say but she is a Nigerian. I do not see why he cannot do more with this wider platform. By the grace of God, he will try to make sure that he reaches out to many. From his appointments, you can see that he did not limit himself to Central, Delta and South-South. He is reaching out to everybody and we are very proud of him.
And to the people's general?
We give kudos to our opposition godfather, grandfather and a father whose platform all the opposition parties in Delta state have been operating from, Chief Great Ovedje Ogboru. We appreciate him for the wide platform he gave for every opposition to spring from.
About Post Author