By Newssphereng.com
The offices of Community Development Board, CDB and Cluster Management Committee in Ughelli, Delta state were yesterday barricaded by over 600 covert pipeline surveillance workers of Occean Marine Solution OMS, from Isoko and Urhobo ethnic nationality in charge of covert  surveillance in Oil Mining Lease OML 30 infield yesterday barricaded the Community Development Board (CDB) and Cluster Management Committe (CMC) office, Ughelli in a peaceful protest over suspected contract hacking and attempt to hijack OMS covert surveillance contact.
The workers in a peaceful protest against fake/briefcase contractors disclosed that they are indigenes of OML 30 and as such, nobody should temper with their job for peace to reign.
Displaying placards with inscriptions such as: 'The OML 30 does not belong to you alone, 'CDB leave OMS alone; 'You are not more of OML 30 than OMS workers' the protesters accused the Chairman of Community Development Board, Morris Idiovwa, Cluster Management Committe, (CMC) of allegedly using faceless contractors to relieve them of their source of livelihood, an allegation that was denied by the CDB chairman.
According to them, "we are gathered at the CDB office to warn the CDB chairman, Morris Idiovwa and his board members, chairmen and secretaries of CMC to withdraw all letters written to take over the contract of OMS because they are not more of the OML 30 community than any of them".
Speaking to newsmen on behalf Isoko coordinators and workers of OMS at Ughelli, Delta state, Prince Ogologo Meshack said, "We are embarking on this peaceful protest to warn Morris Idiovwa, CDB members and Community Management Committee to stop using faceless/briefcase contractors to hijack the OMS Covert Surveillance contract. He stated that OMS had demonstrated capacity in prompt payment of salaries to the covert surveillance workers on monthly basis compared to other local contractors in the OML 30 operations.
"Any faceless and fake contractors coming up all in the name of OML 30 should stay clear because OMS has given us the covert surveillance job in all the communities, we are not strangers but indigenes of Isoko and Urhobo ethnic nationalities and any attempt by anybody to take this job from us will not be accepted.
According to Ogologo, "We the workers are calling on the Federal, State government and security agents to urgently wade into the matter and caution whoever that is involved, to leave OMS contract and workers alone for the interest of peace.
Also, the Urhobo coordinator, Felix Olokpa who spoke on behalf of the  Urhobo ethnic nationality said, "We are protesting today because our job is being threatened by some group of persons calling themselves as OML contractors and they want to take our job.
"The work we are doing, covert/surveillance that is being handled by OMS and there are information that Morris Idiovwa who is the CDB chairman is working in collaboration with some people to hijack the contract and remove us as workers.
"If these people that are here on this peaceful protest are being sacked where would they want them to go and feed their families. We are for peace hence we have come peacefully because we don't to go into the street to steal."
Olokpa stated that before OMS took over the surveillance job in OML 30, production was below 20 percent but as at today, the OML 30 is on full capacity production due to the effectiveness of the covert surveillance security network put in place by OMS and any attempt to hijack this contract means the state and federal governments should be ready to go back to the days of old when production was below 20 percent, and when pipeline vandalism and crude oil theft was the order of the day.
On his part, the CDB chairman, Morris Idiovwa, while addressing the protesters denied the allegations saying, "I have been hearing the venom and anger from your mind and as my people and i want to assure you that the rumors that the CDB and CMC are writing letters to take over the OMS surveillance contract were you my people are working is not true, and i will not support anybody to render you my people jobless.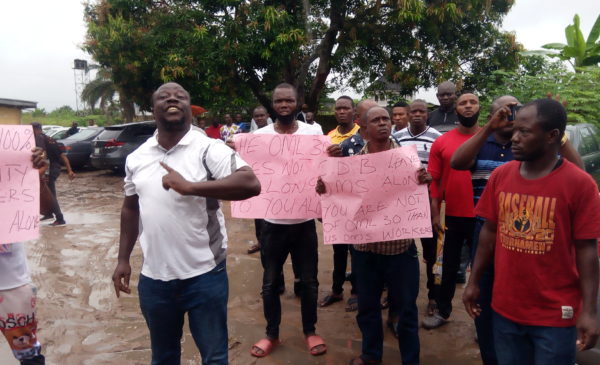 He said, "I guarantee you people that nobody will loose their job, nobody is being witchunted and nobody is coming to take OMS Covert surveillance job in OML 30 infield. We are here as your representatives to serve you better and not to render you jobless.
"This surveillance job has been putting food on your tables, I acknowledge that you all are indigenes of OML 30 and nobody would do anything that would affect your job to jeopardize the existing peaceful relationship between us as it affects OML 30 operations"
Idiovwa appealed to the protesters to go back to their work and ensure thorough  protection of OML 30 facilities in their domain.