On the 8th of March Nigerian women joined the rest of the world to mark this year's edition of the International Women's Day with the theme "I am Generation Equality: Realizing Women's Right #EachforEqaul" the celebration continues as they will also mark Mother's Day on the 22nd of March. So women issues take front burner all through the month of March.
Evangelist Lovette Eseoghene Udu, an educationist and lover of children speaks on why gender equality should be embraced by all. According to her, nothing enhances an economy like fair competition, the discriminatory gulf between men and women should be closed. She advocates that the law supporting the course of women should be enacted and stricter penalties imposed on offenders.
Tell us about your background?
I am Evangelist Lovette Eseoghene Udu. I am an educationist and a lover of children. I live in the world of children and youth. I believe in the cause of building a moral, spiritual and upright society. By the grace of God, I am a businesswoman and the proprietress of Esteemed Peniel Academy, Karu, Nasarawa State.
The theme of International Women's Day, March 8th 2020, was, "I am Generation Equality: Realizing Women's Right #EachforEqaul". Explain your understanding of the theme and how you think it can impact women?
The theme, "Each for Equal," for this year's International Women's Day Celebration, it's a maxim that tries to equalize the disparity between the girl child and the boy child. It is also about pushing for equality as a fundamental right. And talking about how it can impact women, I will say greatly. Women and girls are presently being discriminated against in so many ways. Giving them the privilege and treatment they deserve will go a long way aiding the rise and prosperity of many women and young girls. Out there are women, struggling without success, not because they are not capable of attaining success because of their poor qualification, but because they are simply women. According them the same rights as men could serve as an incentive to spur such women to success.
What do you think are the most effective ways to address gender issues in the society?
The most effective way to address gender issues in our society, to me, is simply by continuous consultations between enlightened minds on how to close the gap between the rights of women and the abuse of such rights and the continuous enlightenment of unenlightened minds regarding discrimination against women, which is legislative based solution. This means that the law supporting the course of women should be enacted and stricter penalties imposed on offenders. Going this way could lead us to a point where both the modern and traditional societies will come to see the woman as a partner in progress; a partner with equal rights to happiness, political and economic opportunities and not just being relegated to the kitchen that a large part of our society seems to see the woman as today.
What were your organization's activities to mark the day?
I belong to a women organization called, 'Christian Women against Corruption'. It's an organization headed by Dr. Mrs. Ejiro Otive- Igbuzor an arm of Shun Corruption supported by MarkAuthur foundation. On the platform of this organization, we marked the International Women's Day with a Talk show, Lectures and drama from Wednesday through Sunday.
On Monday 10th of March, that's, a day after the International Women's Day, my school, Esteemed Peniel Academy also organized a debate on the importance of the girl child and boy child to the society and rounded things up with a lecture on the theme: "Each For Equal" Connecting to biblical teaching—no gender disparity. Gal. 3:28, Joel 2: 28.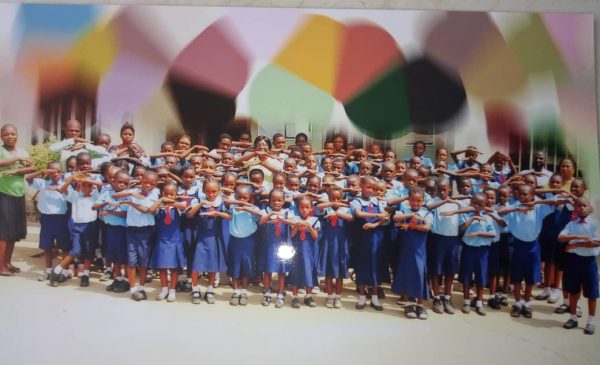 We have been speaking about gender equality for years, what should be done now to save our future women from going through our current struggles?
Rome was not built in a day. One step at a time and we will get there. Remember that years before now, women, not just overseas, but even in our own dear Nigeria, were not allowed to vote. The activism of women like Fumilayo Kuti and others began to open the doors to political relevance to women. Compared to where we were hundred years ago, we have made significant progress, and this is because the activism of our mothers of yesteryears lightened our burden. Our hope is to continue asking for more space until we have as much as our contribution to the family and society deserves and again the re-orientation of society that every reform will be in public purview – no ignorance of the law. Wherever we stop, the next generation will surely take over without the kind of burden that we are now experiencing.
It has been proclaimed that women are gradually taking over the world, what are your thoughts regarding this?
Women have always been very hard working and industrious. In rural Nigeria, women make over half the farming population. They are bread winners in many homes. In the urban areas, they are hardworking career women. The belief about women gradually taking over the world is simply recognition of the rate of progress that now accrues to the efforts at being self-reliant and successful that women have been making over the years. In the education sector (private education) for instance, more than half the owners of schools are women; more than half the teaching staffs are women. You can find this same reality in many more of the nation's economic and social sectors. For example, Mrs. Folorunso Alakija, A Nigerian billionaire businesswoman involved in fashion, oil, real estate and printing industry and with net worth of 1billion dollars, Tara Durotayo C. E. O. House of Tara, a lawyer turned African's leading beauty and makeup entrepreneur.
But politically the Nigerian political space has not given the women the opportunity to compete with their male counterparts. At present there are only 7 female Senators and 20 female houses of representative members which is not a fair representation. The good thing is that they are not deterred, our observation show that a lot of women politicians with ideas and vibrancy are going back to the drawing board to push and get their voices heard.
Do you believe that religion, culture and society have shaped the view of gender in today's world?
We all are social beings, and our society was shaped by our ways of life. Our ways of life are shaped by our beliefs. Our beliefs are shaped by our culture and religion. Our beliefs determine what we think of women and where we place them. Therefore, the difference between how two societies treat their women is simply the difference in beliefs, which arises from culture and religion. So of course, culture, religion and society have and will continue to shape the view of gender in today's world. Though, culture has rather relegated the female folk to the background. It has also made a mockery of women who were denied certain right and dehumanized. For instance some culture promotes the shaving of a bereaved woman's hair and compelling them to take an oath of innocence by drinking from water used in bathing the dead.
Again women are wrongly faulted for giving birth to female children whereas science has exonerated the woman and established that the chromosomes responsible for sex type are produced by men.
According to God's Word in Gal 3:28 'there is neither Jew nor Greek. There is neither bond nor free. Neither male nor female for ye are all one in Christ Jesus', which buttresses and supports the theme "Each for Equal".
But in conclusion the society evolves with each generation. Through the society itself, with the evolution of generations and new ideas tested over older ideas the malignant society will give way to a new world order of equal rights for all regardless of gender.
Do you think we can achieve equal participation for women in areas of economy in Nigeria and Africa?
Yes achievable, but difficult feat to reach only time shall tell. Women's participation in economy is very plausible for instance Ngozi Okonjo Iweala one time world bank vice chairperson, head of Nigeria Economic team, presently appointed a member of the South Africa Economics advisory council,. Other female entrepreneur's include Folorunso Alakija a Billionaire business woman involved in fashion and an oil magnet in Africa's largest economy and other business. That is exactly what we are fighting for. We are not saying that we should be treated differently, with special privileges no, what we are saying is, do not discriminate against us on the basis of gender. I should not have to prove to be better than a man before I am given an opportunity. There are situations in which a woman loses out to a male competitor, not because she is second best, but because she is simply a woman. If I am as good as a man is, then let me be given equal chance. If men of average qualifications are given opportunity, why do I have to be better than the best man to get an opportunity? Achieving equal participation in areas of economy in Nigeria and Africa is one of the things we are fighting for. The opportunity to compete on a fairly level playing ground is what we are asking for. Nothing enhances an economy like fair competition.
How do you rate women in the work place especially when placed side by side their male counterparts?
They are like their male counterparts; knowledgeable, visionary focused and hard working. There is no fact that says all males are more intelligent or brilliant than their female counterparts. So wherever you find a qualified woman doing a job she has capacity for, of course she will excel at it. You do not employ unqualified women who present nothing more than physical appearance and beauty with nothing upstairs and then come and say all women are not capable. We have the same situation in men too. Many unqualified male workers are employed, not on the basis of competence or merit, but on the basis of who they know, and they go there and fail. Do you now use their incompetence and mediocrity to judge the whole males? So why do you use the failure of individual women to judge all women? In a nutshell, when you pick a woman because she is qualified, like her male counterparts, she will give you the best that her qualification should give.
Therefore, to perform effectively and efficiently in any organization one should have self-esteem and be humble enough to understand their male counterparts. This enables her to improve on her weaknesses thereby giving the organization a higher productivity, for we all were created to complement each other favorably.
How do you think we can foster a work environment that is conducive enough for a woman to thrive to her maximum potential?
By simply seeing the woman as being equal to the man, and treating her according to her worth as an individual. Allowing fair competition and watch her thrive. And creating awareness and seeking more participation in politics.
What is your advice for women who want to sit at the table with men in power, what are the qualities that they should possess to enable them get to the top?
Have knowledge of the field in which they hope to operate; acquire the necessary education more than beauty and sex appeal. Thereafter, they should go with brains, competence, sense of equality, confidence, good sense of direction to help them harness their potentials and they are as good as the best man in their area of endeavor.
What can women do to increase their numbers in government or leadership roles?
We are not saying women must be given important offices simply because they are women, but we are saying when they are qualified, they must not be discriminated against on the basis of gender. Therefore, women must strive to acquire the competence they need to have, then, they must learn to be more effective than they are today at mobilizing their female counterparts to understand the importance of voting women into public offices. For example, the political space in Nigeria has not been favorable to women. At present, there are only seven (7) female senators and twenty (25) House of Representative Members in Nigeria, which is not a fair representation considering the fact that women make up almost half the number of voters. By implication, it means even women voters do not vote female candidates, and this is a clear case of lack of solidarity or ignorance on the part of women voters, meaning more enlightenment is needed.
Many women struggle between starting a family and building their careers. Can you suggest a way to achieve a balance?
Pursuing a career and starting a family is a definite and sacred pursuit of grown adults. To strike a balance between starting a family and pursuing a career the woman should know her values and have a defined goal.
Life itself begins with harmony. Unless there are harmony no way the systems of your body work, you won't be alive. Imagine the heart, instead of pumping blood, is trying to digest food. Of course there will be crisis if this happened. It's the same with a successful life. To avoid conflict between raising a family and pursuing a career is to first of all, set a definite aim for your life. If you know what you want, you will know the kind of man to say yes to. Lay your cards of priorities before your prospective husband, and as a prospective couple, you must decide what you want for your life. Are your immediate priorities on starting a family first or allowing you the wife to pursue a career? Once you know what you want, you will have no problems with making decisions later on in life.
You seem to be involved with associations that are women specific. How important is the concept of women supporting women to you? What has been the most rewarding part of your role with this initiative?
First of all, I am a woman, so naturally I should like to support the women. But to me, the importance of the concept of women supporting women lies in the fact that only a woman can truly appreciate the value of womanhood. As a woman, I know firsthand, the pains of sacrifice that women go through today to keep families happy, together and alive. A woman is the only being that can take care of everyone even if no one takes care of her. So, if women who understand this do not support women, who else will?
What is your ultimate goal when it comes to your work, family, passion, and what would be your legacy?
My ultimate goal is to achieve the purpose for which the Almighty God created and sent me to earth. In my work, my family and in the passion I display, I want to see God's purpose for my life. I want my legacy, when I leave this world, to consist majorly of successful lives that my work, family and passion had positively shaped and given a meaning to.
Have you ever faced people trying to undermine you because of your gender? And how did you handle it?
It is a normal situation with every visionary and self-willed woman, who knows what she wants and believes in her ability to get it. There are few unenlightened souls out there, which, unfortunately, consist of both males and females, who think as a woman, you must not strive to be better than a man, succeed more than a man or excel at what was traditionally a male dominated area. As an ambitious woman who wants to change her immediate environment, I have embarked on several projects that scared some people and the only reason they had for opposing me was my being a woman. Why should I be in the forefront of change? Why should I show such vision and courage when I was only a woman? Were some of their reasons for opposing me but the best way to silence such voices of opposition is not to engage in direct confrontation, but to let the result of your work speak for you. Everyone (except those who are determined to hate you forever) loves success, and soon, the result of my efforts melted all opposition into support.
What do you miss about the Nigeria of your youth that is lacking today?
Good morals and values. Our value system has been eroded. And this is why, as a country, we are struggling to make it. We have all the natural resources that should make us a rich, successful and developed nation, but alas, we are still here. Do you know why? It's because all we have are natural wealth, in values we are poor. Values are what turn your natural wealth into development. It's better to have no natural wealth and have good values than to have natural wealth and have no values. This is why countries like Malaysia, Japan, Switzerland, etc. that cannot compare to Nigeria in terms of natural resources are way ahead of Nigeria. They have values. Their value system upholds good morals, justice, fairness, reward for good, punishment for wrong etc. The Nigeria Society has not just lost its value; it has lost focus and priority. In our days human development was a priority. Premium was placed on education such that secondary school leavers were given scholarship and jobs to study abroad. This policy begot the elite of our contemporary society, for example, Professor Gabriel A. Oyinbo a Mathematician and Aeronautic Engineer, one of the greatest scientist living, a Nigerian who benefited from this policy. But unfortunately, first class students from our various institutions don't have jobs. To me, that is the missing link. The Nigeria of my youth was a country of promise, but all that has been dashed by what I see today.
A mother, they say is the person that does more for you than anyone else in the world, what was the most important lesson you learned from your mother?
I learnt a lot from my mother, but the most important thing I learned from my mother that has impacted my life and made me who I am today, is the lesson that, a mother must live her life, not for herself, but for her family. It's only in the happiness of her husband, children and in-laws that she would find her own happiness. This I have held onto and even extended it to include, the woman finding her happiness only in the happiness of all that depend on her for guidance and advice, especially my students, staff etc.
Mothers have been called the glue that holds the family together. March 22nd is Mothering Sunday, while May 10th is Mother's Day, do you agree that mothers should be celebrated? Why and how should they be celebrated?
With all I have said about women and mothers, I think the importance of mothers has been highlighted enough. Why they should be celebrated is therefore not a question that has not been answered, but how they should be celebrated is left to all to decide according to how they value the mother. But how do you celebrate a person that gives you all that you have? Can you ever give that person enough? NOT AT ALL.
Write a note, letter or poem expressing regard, respect and love to your mother to mark this year's Mother's Day.
God sent you to me,
A special gift from above
You taught me life's lessons
And showered me with your love
Your smiles always come to me like the moonlight
Shining around me
Day and night
How I miss you,
Oh mama.
Who are the women that have shaped and defined your life?
Dr. Mrs. Joyce Ejiro Otive-Igbuzor, founder of Global Women Connection, a woman that has given me a lot of inspirations and encouragement. Through her platform, I have developed more self-confidence and the courage to interact with people socially. Her nature is the nature of humility, simplicity and love.
They say women do not want to age because we live in a society where ageing induces fear of physical challenge and limit opportunities. Do you feel that way?
No, I don't. If you do not age, where would you get the experience with which to raise the younger ones? Or do you get experience outside of time? One of the joys of womanhood is seeing your kids grow up to have their own families. How do you experience this joy if time does not pass? There is nothing wrong with ageing, what is wrong is, ageing without grace and impact. I want to age with grace and impact my generation. In that way, my age will be a symbol of success and self-fulfillment.
About Post Author