On the 8th of March Nigerian women joined the rest of the world to mark this year's edition of the International Women's Day with the theme "I am Generation Equality: Realizing Women's Right #EachforEqaul" the celebration continued as Mother's Day was also marked on the 22nd of March. So women issues took front burner all through the month of March.
Bridget Affiah, is a pastor, teacher, trainer, a human and women rights activist. She is the Founder of Ideal Women Advancement Initiative and J.D FOH Development Foundation, an NGO with a vision to build the capacity of community women to become critical stakeholders in the development of their communities while giving scholarship to indigent children from primary school to university level.
One of her greatest dreams, is to build a women resource and development Centre in the three senatorial district of Delta State where women can build their capacity, learn leadership and new skills. In this interview with Omamuzo Efidhere, she advocates that work place equality be deliberately implemented first in the family before the church and larger society.
Can we meet?
I am Pastor Mrs. Bridget Affiah, I am from Bururtu Local Government Area of Delta State. I am a pastor, teacher, trainer, a human and women rights activist. I was Born and raised in Warri, I have been in Warri for Fifty years now, the only time I left was when I went to school.
Educational Qualification?
I had my secondary school education in our Lady's High School Effurun, Warri; I have a degree in English Education from the University of Ibadan and went back to Delta State University, Abraka for a Master's Degree in Counseling, Psychology and presently pursuing a PHD in Counseling Psychology.
Positions Held?
I started out my career as a teacher in 2007, but after the Warri crisis, I was touched about what has happened around me, growing up in Warri we did not know who was Urhobo, Itsekiri or Ijaw, we were just one big family. Christmas, festive seasons were great times, as we all came together to celebrate but after the crisis there was a sharp demarcation, people we grew up with became enemies for no fault of ours as we were not part of those perpetuating evil, burning houses, looting and killing. But because we were Ijaw, our Itsekiri and Urhobo neighbors and us could no longer maintain the relationship we had prior to the crisis. This got me thinking, I was teaching then but I started looking for people who had the same mind set and I got in touch with someone who was doing conflict prevention, conflict mitigation and peace building work and I started working with her. In 2006 I came in contact with West Africa Network for Peace Building (WANEP) they were looking for somebody who will translate Resolution 1325 and WANEP community women in peace manual into Ijaw language and somebody contacted me and after translating the manual for them, I told myself, this is what you should be doing, helping more women to understand peace processes, why they must be peace builders and in 2007 I registered the Ideal Women Advancement Initiative.
The vision is to build the capacity of community women to become critical stakeholders in the development of their communities because we found out that women and children suffer most during any crisis. When their husbands die in violent conflict situations, they become bread winners; they bear the brunt of every violent conflict, and are victims of rape. Women's capacity need to be built, women must be in the mainstream as there are many things women ought to know and this are not things that require a university degree to know. All they just need is someone to prod them, build their capacity and tell them their place. So in the last thirteen years we have been building the capacity of community women in Peace Building but we also realized that after building their capacity they are not able to articulate their needs, so we opened adult literacy centres in these communities to give the women basic education in Arithmetic and English language so they can read and write, open and operate an account for their businesses even if they cannot sign, we encourage them to thump print because women lost millions of naira during crisis because they keep their money at home.
We taught them how to join cooperatives and act as guarantors to each in order to access Micro credit from banks to expand their businesses and explore new frontiers. We also saw the need to build their capacity in business management, as a lot of them were running their businesses with just the mentality of putting food on their table daily. We schooled them that if men can become millionaires in the same communities where they were, they too can become millionaires. And I tell you in the last thirteen years, we have seen a lot of strong women entrepreneurs grow into millionaires.
How do fund these programmes?
West Africa Network for Peace Building has been one of our biggest funder and most recently the PIND Foundation (Partnership Initiative in the Niger Delta Development) we had a project in 2013, – 2014 the Peep Project which we called "Peace Building and Economic Empowerment Programme". We want these women to be financially strong so that they can become voices in their community. We want them to be able to ask for what belongs to them in the local governance structure and by the grace of God we have made success because we have women who are now members of their community CDC's.
We had a case of a woman who later became the CDC chairman for twenty one communities in Gbaramatu Kingdom, Hon. Fatai Goodness Wharie. She was there for three to four years before someone else took over. We also found out that women were not involved in regional development councils, we had to begin to work on our women and now we have a lot of women involved in these regional development councils in the Ishekiri and Ijaw communities.
I presently work for an international NGO Search for Common Ground as a Program Manager.
Running ideal women advancement initiatives, what are some of the challenges you have encountered?
One of the biggest challenges we have encountered is with the women we are trying to help. Because of their socialization process, when we ask them if they attend meetings in their communities they say no and the few who attend stand outside by the window. So we started building the confidence of these women as they believe that if you ask for your space amongst men, you will be regarded as a bad woman who wants to be equal with men. Today they have realized their mistake but a lot of the women especially in the Ijaw axis are not enthusiastic about school but they are beginning to understand their place in Nigeria, what Nigeria expects from them and what their benefits are as a Nigerian. We teach them these things in the civil education programme so that they can know their rights.
Funding, we intend to have an empowerment summit where women who have gone through different challenges, but came out and rose to the top will be speaking, sharing their experiences. Because most women feel that other women at the top had all the opportunities handed to them, no I lost my father when I was eleven; my mother had to struggle to train the five of us through school. So is not like it is a roller coaster, we just got there, no, I want them to hear the stories of others and at that empowerment programme we will be showing a video of a lady called Terrarah, who was married away at the age of eleven for a cow but her ambition was to go to school and America. She never allowed her dream to die, she still found a way out when some missionaries came to her village in Zimbabwe and they asked her what her dream was, she said she want to go to school and America. Meanwhile she had only gone to school for two terms but she was determined. Her husband started battering her because he felt she was aspiring too much. Today Terrarah has a PHD and she wrote GCE four times in eight years before she passed and got a scholarship.
We want to inspire women because if a woman who was married at age eleven, had five children by eighteen, was a farmer and it seems there was no more hope, could go to school and have a PHD and come back to Zimbabwe to build eleven schools so that others girls can go to school, what is it that you cannot aspire and get, if you are determined?
What you are saying now is that economic empowerment can end gender based violence?
Yes because if a woman is economically buoyant, she can walk away from a bad marriage, and violence. A lot of women say, what will I do, he pays all my bills, I do not have my own money if I leave him, how am I going to cope with rents, school fees etc. but if a woman have what she is doing, she can also assert herself.
What is J.D FOH Development Foundation all about?
The J.D FOH Development Foundation is another arm of the development work we do and it is strictly for scholarships and skills building for indigent children. Every year in August we have a skills building summer class for indigent students so that apart from getting education, they have a skill.
Aside development work, I am an event planner. The kind of money event planning has given to me, the degrees I have, have not been able to give to me so I am one person who believe so much in education and skills.
We give scholarship to indigent children from primary school to university level but sometimes funding is a problem. But when we have funding we accept new students into the system. We have some very strong partners who are on the board who have supported us all these years. J.D FOH Development Foundation is seven years now.
You are a focal person, South South Women in Peace Building Network what is your day to day duty and how do you cover the area?
I got in contact with WANEP in 2007 and I said to myself this is what I want to do for the rest of my life. Growing up in Warri was very beautiful until the first and second Warri crisis and I said anything for peace I will do. WIPNET (Women in Peace Building Network) is a programme of WANEP and when they saw my strong involvement and passion for building women's capacity, peace building and conflict prevention I was given the drivers seat. In fact this is my second term of being focal person for the south south. My duties entail overseeing the network in six states of the Niger Delta; Edo, Delta, Bayelsa, Rivers, Akwa Ibom and Cross Rivers. We have uniform programmes throughout the year. I put together programmes that affect and change the lives of women. We do emergency response, anytime there is crisis or flood and women are in IDP camps we respond.
WIPNET came as a result of what women suffer in IDP camps; people take food stuffs there forgetting that women have peculiar needs. Once I get the information about any IDP camp I get in touch with the state coordinator of WIPNET to go to the camp, I also get in touch with the WANEP secretariat so that they provide us with sanitary towels, bathing soaps etc. those very peculiar things that people do not ever remember, we make sure that women get them and we also offer trauma healing. Aside the fact that they have lost their belongings, houses etc. they are in most cases traumatized. We get them to sing, dance and share their stories. It is therapeutic. So the more they talk about what has happened, the more relieved they become and we make sure they come out of depression, despair and then begin to build their confidence to face the Future. We tell them they can make it again. We look out for women's interest and respond positively.
Soon I am going to be running a project in Ogbe-Ijoh and Aladja it is tagged 'women in peace and security' People tend to believe that peace and security is men's business, but we have found out that men have not made the best of it so we want to invite women who are stakeholders, traders who have business dealings with the women from the other community to the round table in order to proffer solution to the lingering crisis. We do not want to allow those who do not have investments at stake but their greed and selfish interest involved in the peace talks any more. Because there are people benefiting from these conflicts and do not want the conflict to end. This age long conflict of over twenty years must come to an end because most people in Ogbe-Ijoh have grandmothers or grandfathers from Aladja while Aladja people have grandfathers and grandmothers from Ogbe-Ijoh so something must be done. This is a WANEP project in Delta state for 2019 and there are a lot of other projects going on in the six different states in the south south/ Niger delta; what women should do in certain situations and for us at WIPNET capacity building is a continuous thing.
When the Gbaramatu crisis started we were in the IDP camp with the women for thirteen weeks, we escorted them back to their communities to make sure that they are resettled and we kept going back to make sure that they were coping and are doing new things to try and take back their lives. For us in WIPNET, women are the cardinal focus.
The theme for this year's International Women Day (March 8th) was, "I am Generation Equality: Realizing Women's Right #EachforEqaul", can you explain your understanding of the theme and how you think it will impact women?
The best way to address gender issues is to put them into law not just policies then we will be sure of the intentions. If we have a balanced society where women are given their space we will have a better society. But when one part of the society suppresses the other, we can never get the best or better. The message for women all over the world is that we must strike a balance. We are not going to fight the men but we are going to ask for our space in a very creative and respectful manner, let there be a balance. In Nigeria today out of the 109 senators elected in the just concluded elections, we have only seven female senators. We want balance; because if there is balance you will see that we will have a better society. Because women perceive things far away before they happen while for the menfolk it will almost hit them before they will realize that something is happening. Even in the family setting, balance is needed. If we have better families, it will affect the community and if we have a better community we will have a better nation.
What are your activities/organization activities to mark this year's International Women Day Celebration?
This year my organization is having a confidence building dinner with women in the church to appreciate women and let them know they are not less than  what God has made them to be.
We keep speaking about equality in gender, what should be done now to keep the future generation of women from going through the same struggles we are facing now?
Like I said; put these policies into law. Let work place equality be deliberately implemented first in the family, church and larger society. Of course we must continue to speak and push for it so our daughter s does not go through the same discrimination.
So what can women do, so as not to be relegated to the background?
Women must begin to articulate what they need. They must offer their service for free; there is no community where you offer your services for free that you will not be recognized. Some of us are recognized in our communities and this did not happen overnight. We made our selves available we did things that will promote, improve and add value to the lives of those who live in our communities. When the community saw us as relevant stakeholders they had no choice than to involve us in decision making.
Even in the church as a woman do not think because it is a Christian body, they will just give you what is rightfully yours, No; you have to make yourself relevant. Women need to make themselves relevant as nobody is going to give you relevance, nobody is going to appoint you into a position free of charge because you are a woman or beautiful.
Why are women not helping each other to be empowered?
In fact that is the 'Niche' for idea women advancement initiative. We go to communities, find women who have the zeal to learn and begin to build their capacity. Until every empowered woman empowers another woman, we will not get to where we want to get to. I believe that women who do not want to help other women have complex problem they are afraid that others will overtake them. But they need to understand that the sky is big enough to accommodate everyone hence birds do not collide while flying. Women who are exposed are helping in empowering other women because they know that they will need help tomorrow. You may be up there today but what of tomorrow, no position is forever.
Do you think a gender balanced society will lead to a better world?
Definitely, a gender balanced society will lead to a better world because then we are able to look at each other the way God looks at us. We are not looking at any one as inferior; this will make it easy for all of us. Men will see their wives as their mothers, sisters and daughters and allow her find and follow her dreams. This will make it easy for the woman to express herself and if women can express themselves and not bottle up everything, we will have a more healthy society. When people cannot express themselves, it is an issue because they cannot maximize their potentials. Even the work place is better when we recognize that there is nothing like team work. When we recognize everybody's gifting's we can work like a team and it makes the work easier and we achieve more.
What will be your advice to girls on personality development?
Every young girl must know that she is a potential president, governor or doctor. Sometimes I hear people pray for their girl child to marry the governor and I say no, she can be a governor or president. The women who have held such exalted positions do they have two heads and four legs? No, we must encourage our girl children to dream big very young in life. Do not relegate them to the background that is gender based violence. Let them express themselves I have four of my nieces who are engineers, one is a computer engineer, two are chemical engineers and the last one studying to be a gas engineer.
It will be wrong for anybody to say, you are a woman go and study something that befits a woman. God did not give us different brains there are no male or female brains. It is the same brain that he gave to us all so we must encourage our girl child. Any time I meet young women who project themselves as cheap commodity to men, I look for a way to be their friend so as to let them know that they are more than that. I let them know that they are made for more than just being mistresses and parading themselves half naked.
Parents should stop giving their girl child the impression that it is only when they marry a rich man that they achieve something great in life. No, you can attain something great before and after marriage whether your husband is rich or not.
In your over thirteen years of doing development work, what are some of the laudable projects you have been able to achieve?
For ideal women advancement initiative, we have been able to build the capacity of over 200 women in six states in the Niger Delta. We have carried out capacity building training on peace building and cooperative management, peace building and education and peace building and conflict prevention in all the states in the Niger Delta. We have also been into peace education for secondary school students. We have worked in eleven local government areas in Delta state we have formed peace clubs, making the young ones to learn the culture of peace, letting them know that there is an alternative to violence and conflict.
Every year we organize a skills building capacity programme for selected communities in Delta State. And whenever we have more funding we do this programme in Bayelsa and Rivers state. But in the past ten years specifically in August we have held this programme in Delta state. We have training for youths and women. After the training we give the women the sum of ten thousand naira to start up any business of their choice and a lot of them are success stories today. The adult literacy programme has been very effective, it is held thrice in a week. We have twelve adult literacy Centres in four local government areas in Delta State Warri South, Warri South West, Burutu etc. We are going to start in Udu by September; in three selected communities Egini, Urhuworhun and Ovwian.
For J.D FOH development foundation, our niche is scholarships we give scholarship to indigent children. But for some time now we have not taken new students. When we started we had seventeen students, six from primary school, six from secondary school, two from the polytechnic, one in the university and one law school student. Funding for education is huge so we do not want to take on what we cannot handle. We want to finish with these seventeen students before scouting for more. We have also decided that we are not going to do university funding until we have more funds, we just want to concentrate on primary and secondary school education.
Any new projects you are working on now?
Yes we are going to be working with PIND foundation and another partner to give women alternative energy to run their businesses. Aside from buying fuel daily to power their generators, these generators are hazardous and dangerous. Whenever we visit the riverine areas, we hear stories of fishing camps being burnt down by fire from generators. We want to give those women solar panels and luminous box so they can have light to do their fish drying in the night. It cannot carry much but they can put on three bulbs, one fan while charging their phones. For those into hair dressing salon it can carry one dryer, for those who do petty trading, they will have light in their shops to enable them do evening business.
You will be turning 52 soon and you do not look it, is it good genes, dieting or life style?
Life style, I have learnt to take things the way they come, the things I cannot change I have learnt to find peace in handling them. When I started out in life there was so much struggling but I have come to realize as I grow older that the race is not to the swift so I have learnt to take life one day at a time and sleep a lot. I sleep like a baby I do not keep late nights. I wake up very early in the morning to work. I know my strength I am not a night person I am a day person by 6pm my energy level is down. I try to get my eight hour sleep except I have an all-night programme to attend.
Not all women can excel in their chosen career and still keep the family together, how did you merge being a career woman, wife and mother?
One of the reasons why I was able to cope was the kind of man I married. I married a man who believes so much in me. He is my cheer leader. He believes there is nothing that I cannot attain, I have got his strong support and I learnt also to depend on my family, I believe in a strong family life and I have gotten a lot of support from my family, not just biological family, anyone who is around me and the church. When you support people, you do not lack support. The ultimate is my Christian life. God has been so good and gracious to me. I have learnt to trust and hold on to God. I travel a lot I have never been involved in an accident and I know it is God all the way. I take my prayer life serious and that has helped me to balance my family, career and the other things I like to do. I am an extrovert and an outgoing person I have learnt to be a loyal friend and I have had friends who have been for there for me.
Is your life today a reflection of your childhood dreams?
Yes but I have not completed all that I have set to do. As a child I wanted to be a lawyer, but there were no strong guidance. I put in for law but I was given English language I just wanted to get into the university so I said I will come back and study law but it was not as easy as I thought especially with a widow as a mother. After my first degree I still wanted to go back and study law but my family said no we know how we struggled to pay your school fees for the first degree so go and get a job then you can go back to school.
One of my greatest dreams, is to build a women resource and development Centre in the three senatorial district of Delta State where women can come and build their capacity, learn new skills and leadership skills. Then I will say I am fulfilled and I know by the grace of God it will come to pass.
They say women do not want to age because we live in a society where ageing induces fear of physical changes and limited opportunities, do you feel that way?
I do not feel that way especially with the work I do, I think by being older, I am beginning to understand development better and I am doing it better. There is more impact in the work I do now than ten years ago and I feel age is a gift and I am looking forward to celebrating my 55th birthday with a big bash. I have started writing, my first book will come out this year and I want to be able to publish a book every year from now. I will be sharing my experience with women and my first book is titled 'A Better You'. Because there are so many things to learn, to be a better woman but we do not know. I am also doing a story for children titled 'The Disciplinarian' it is all about my childhood experience, my time with my father. I am also writing a book for Christians, 'Serving God and Service in The House of God'. Committed people get offended when they do not feel appreciated rendering their service in church. I want people to understand that service is worship. It is not unto man, but even when you serve man you are worshiping God. Jesus is our perfect example and once you grow into that realm, you will hardly get offended.
What is your philosophy of life?
Live and let's live. Do not try to take other people's own and add to your own let everybody have their space. Deal with people the way they are, not the way you want them to be. Once you deal with people that way, you will find out that you are at peace with yourself and with people. Contentment, know what you want and go for it do not let anybody stop you.
Between a career and being a wife, which should come first?
Being a wife because nobody forced you into getting married, it is a choice and in marriage, children come and it is a responsibility. You will be falling into sin if you refuse to balance your family, to give your family the best. A career is optional so after your family then your career. If you put your career before your family, you will lose your family and when you lose it, you will never get it back.
So what areas of conflict would you counsel women to avoid in marriage?
Financial conflict, this is one of the biggest areas of conflict in marriage. it is amazing how some men would think that the women should take up the responsibility of providing for the family. It is very painful but I tell women instead of you to fight him prod him to accept his responsibility. Very early in the marriage, let this person know your values. That you will value a man who, even if you earn more than him, will always take care of the family needs. Not a man who will leave everything for the woman. Because many at times, women think that a frog will become a prince over night with the mentality of I will change him, you cannot change anybody, it is only God that can change a man.
Secondly the way a woman takes care of herself. Men are stimulated by what they see so you cannot use because I am married to neglect yourself. Generally everyman likes a clean house. Cleanliness attracts God and people. Also everyman likes respect. If you cannot respect a man, even if he is two feet tall, then do not marry him. Finally sex, you must balance it even if you are very busy. These are the four major areas of conflict in marriage. Then I also tell women do not stay in an abusive marriage because people hardly change. A man, who beats you and tells you I will kill you, should not be taken for granted because one day, he will keep his promise.
Words of advice to women who seem in need of direction who do not know or are afraid of following their heart?
If you do not follow your heart desire, you can never fulfill your dreams. Look for that strong passion that God has put in you because that is where your destiny lies. As a young person, I was a peace builder I liked peace so when I got into peace building work I was not surprised. I met a young woman recently who said I do not have any talent but was a wonderful home maker. She knew how to decorate children's room and kept her children neat and well-dressed so I told her that is your gift and today after six months of training she sells children clothes, makes duvets, children's room curtains and decorates children's room. Her husband was rich but he needed her to be productive. Today her business is thriving and she has made success of her life. You must follow your dream; you must do what you are naturally empowered to do.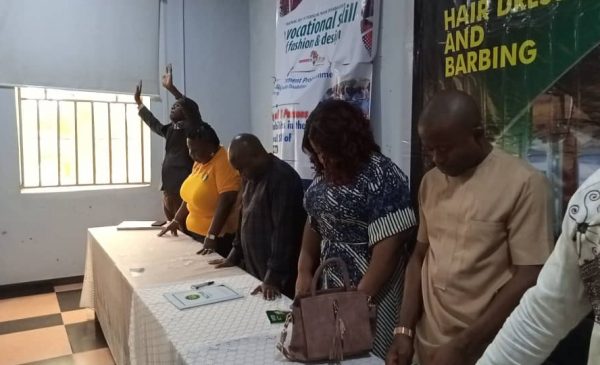 What is beauty to you, do you have any fashion rule you observe?
Sleep, rest, eating what I like to eat I do not have a beauty regime. I exercise which is cardinal. I wear things that I am comfortable in; you will not catch me wearing something that does not fit my physique. I am on the big side, so I do not want to know how fashionable that piece is, I like dresses because they come out well on me. I like trousers and tops because it holds my body together and it makes work easy for me.
So which completes you more, Jewelry, shoes or bags?
I love Jewelries but in recent times, I am cutting down on jewelry. I love good bags.
How can the church help, in ending gender based violence?
Churches should start talking about gender based violence. They are not being fair to the women. An abused and battered woman comes for counseling, and you tell her, do not worry God will do it, go and pray and fast. Whereas the man she is praying and fasting for does not perform his duties, I agree it is spiritual sometimes but most times it is a mental condition that needs a psychiatrist to deal with. Some of the men have complex issues, they are ruled by fear and the only way they can feel alive is to put the woman down. Mosques should begin to talk about gender based violence and more women should begin to speak out and not die in silence.
There is this case I was handling, along the line the woman came and said please leave him. There is another case of a seventy year old man who defiled a fourteen year old girl, the parents of the girl pleaded that we should drop the case, citing shame and their daughter's reputation as their excuse for dropping the case. When I reminded them that the girl is a minor and the man could get life imprisonment, they insisted they wanted to settle out of court.
Is there any role men can play in ending violence against women?
In fact we need the men to begin to speak up against gender violence. We call them, 'He for She' if we have more 'He for She' who believes that men should not treat women less, If we have more men championing it in our campaigns, it will have more effect. Because it is easier for a man to talk to another man about not abusing women than for a woman, because once you come as a woman, the man will see it as women supporting each other.
For those who have suffered one form of abuse, what will be your word of advice to them?
My advice is for them to speak out and look for help, if not they will die in silence. We are expecting funds as we intend to start a radio programme on Rize FM that is going to be dealing with gender based violence, we will be featuring victims of gender based violence and since it is radio we will disguise their voice and nobody will know who is talking. They are going to tell us their stories and how they were able to come out of it so as to help others who are afraid to speak up; there will be a phone in section on that programme. People can phone in and come to our office for counseling and we will guide them on how to get support.
Who are your mentors, those you look up to?
Mama Helen Oritsejafor. She is my spiritual mother she has influenced me so much. My grandmother was a very strong woman, she was uneducated but she believed in education and made sure she supported her daughters especially my mother who lost her husband early in life to make sure that we went to school and she believes that any woman can achieve anything. She was a very good masseur that the German's who worked in the DSC hospital used to come and pick her to set the bones of their patient before they put a POP on a fracture. She was a very successful woman. Internationally Joyce Meyer is one woman I look up to. She bounced back from all the abuse she went through in her childhood to become the woman she is today.
What do you do aside capacity building counseling and activism?
I am into catering. My husband is a caterer, he runs a catering outfit, he has my strong support, I love cooking it is a natural gift but these days I do more of event planning I do it with my whole heart. Till I am satisfied I do not leave a hall. I bake, I make beautiful cakes. It has been very lucrative I must say. Good event planning jobs do not come every day, but when you have one good one, you are good for it for that season.
What does one require to go into that?
You have to understand occasions. One of the secret of having a good ceremony is to know the theme for each occasion. If you are to decorate a hall for conference, you do not use blue, red, green or very sharp colours for the decoration except it is the organization's colour and they want you to use it but no standard organization use those loud colours. Also the style for decorating a conference is not the same for a wedding ceremony or musical concert. The sitting arrangement, the food service, anchor person, entrance and exit point in any event are all part of the duty of the event planner so you must learn the ropes before venturing into event planning.
About Post Author